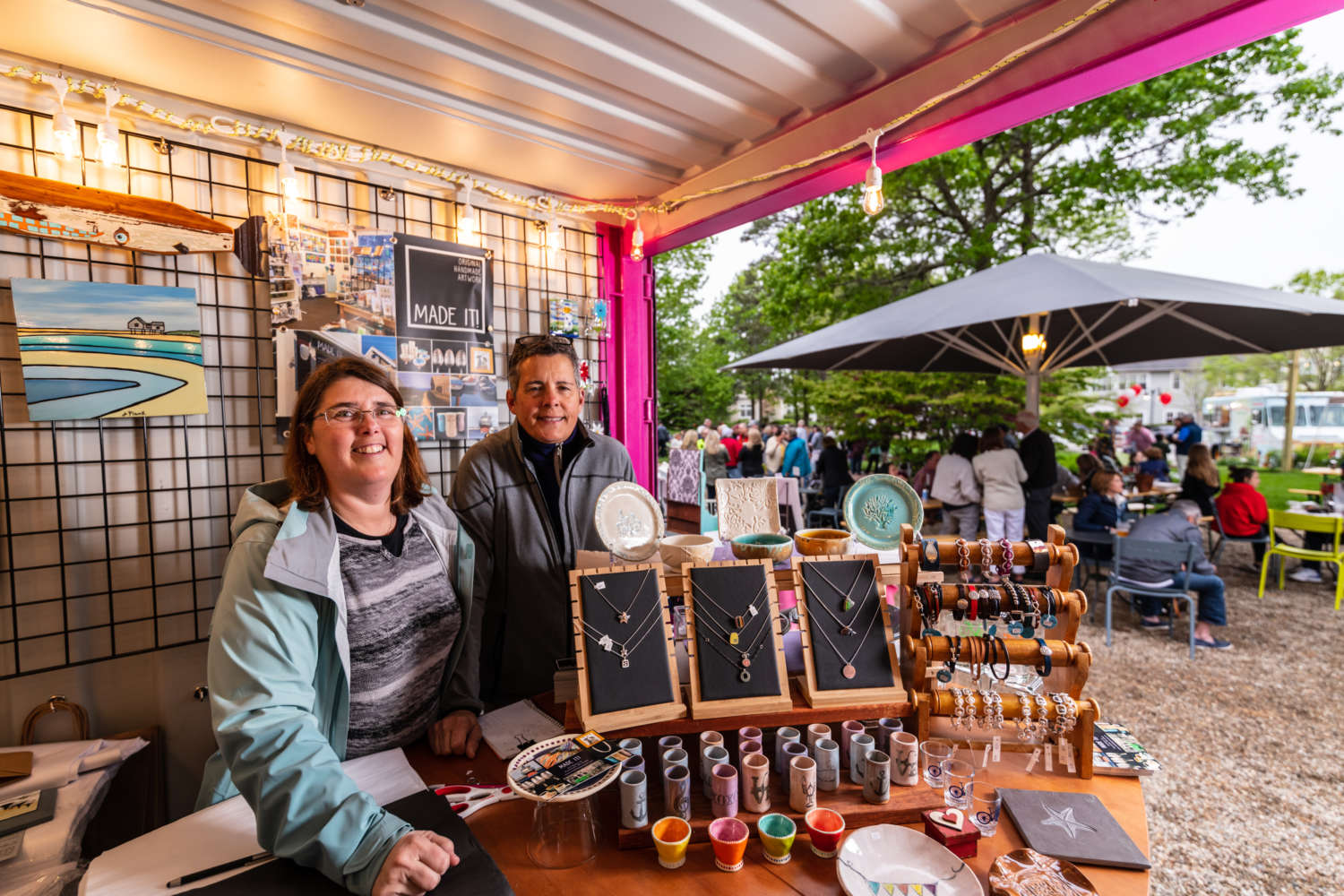 No doubt you've seen the cool, new Summer artisan pop-up on the Village Green – presented by Made it!, the shop features original handmade creations from local artists and makers. The pop-up is open through August 31 - Thursdays and Fridays, 4pm – 9pm, Saturdays, Noon – 9pm, and now Sundays 9am to Noon. Stop in and say hello. We know you'll love their colorful, eclectic mix of art and gifts. It's never been more fun to support local artists!
This week we spoke to Joan Welch and Sheryl Sousa, local Plymouth artists and the partners behind Made it! Read on if you'd like to learn more about our creative new neighbors on the Village Green.
So, we know you own Made it!, but you are also artists. Will you tell us about your work?
Sheryl Sousa: I have been painting for most of my life beginning at a young age when I studied with a local artist, Hiroko Trainor, in my hometown of Lowell, Massachusetts. I work in oils and acrylics and I am mainly a landscape painter.
I'm often inspired by local beaches and coastal settings in Plymouth and Cape Cod. I'm interested in the effect of light on a subject and how the contrast between light and shadows brings out the beauty of the everyday world that surrounds us.
Joan Welch: I was born and raised in Massachusetts and have been taking photographs for over forty years. My photography focuses primarily on the natural beauty found in New England through local landscapes, seascapes, flora and everyday life.
I also make what I call "Beach Art" for which I use glass and stone to create handmade, one-of-a-kind works of art. My Beach Art pieces feature natural materials, and many incorporate beach glass and beach stones found on local beaches. Some pieces are framed, and others are created using repurposed wood.
What is the story behind Made it!?
SS: Made it! has been a dream of ours for years. When a perfect location opened on Water Street on the Plymouth Waterfront, we decided the timing was right. We wanted to create a space that celebrated art and artists. We intentionally feature a diverse selection of mediums in the hopes that our shop will become a must stop destination for a wide range of people, locals and tourists alike.
JW: I have been doing local juried art shows for the past couple of years and have met many talented local artists. They received the first invitations to show at Made it! which is a curated collection. We select who we would like to show and which of their work we would like to carry. We now carry the work of approximately 90 artists.
Why Plymouth?
SS: Living in Plymouth, we appreciate the beauty of the town. Much of our own artwork is locally inspired. We wanted to have our business where we live and to be a part of our local community.
What intrigued you about the pop-up shop location at The Pinehills?
JW: I have participated in Art on Green events at The Pinehills the last couple of years. It's a great venue and a wonderful atmosphere. We were excited about the concept of the Mayflower Beer Garden and the attention to detail that was placed on creating an experience for the community. We also love the experiential nature pop-up shops provide. We knew it would be amazing and we wanted to be a part of it. As a new business, we thought it was an excellent opportunity to let people know who we are, what we do, and where our permanent location is. (114 Water Street on the Plymouth Waterfront!)
What is it that excites you about local artists?
JW: All art, regardless of the medium, is an expression of an artist's own experiences. Therefore, it is interesting for us to carry the work of local artists as it often is inspired by or the expression of our local area. We also find that for the many visitors to Plymouth each year, they are looking to take home something that is locally made as a memory of their time here.
Who is the ideal Made it! customer?
SS: Someone who appreciates handmade artistry, creativity and beauty. Made it! intentionally has an eclectic collection of handmade creations at a variety of price points to appeal to as wide a range of people as possible.
How do you go about finding new artists to feature?
JW: We are always looking for new and interesting work to round out what we already offer. We actively travel to local arts shows in search of new artists and we also consider artists who reach out to us.
Is everything at Made it! by local and New England area artists?
JW: Many of the artists are local to Plymouth, the South Shore, and Cape Cod. Most artists in Made it! are from New England, but we do have a few artists from other parts of the U.S.
What will we find in the pop-up shop at The Pinehills?
SS: The pop-up shop has a sampling of artwork from our main Waterfront location, including a variety of pottery, jewelry, photography, small paintings, woodworking, metal art, screen printed designs, beach art from stones and sea glass, cards and more. Everything is handmade and original artwork in some shape or form.
What will customers find in your Waterfront location?
SS: At 114 Water Street – we're on the corner of Chilton Street - we have a larger selection and wider variety of what is available at the pop-up shop. And, we have more fine art including larger paintings in a variety of mediums.
Any plans to open another location someday?
JW: For now, we are thrilled with how well the Waterfront location has been received and we're enjoying the fun of the summer pop-up experience at The Pinehills. Our focus now is on making those two locations the best possible experience for everyone who visits us.
Visit Made it! Plymouth Online
Website: madeitplymouth.com
Facebook: @madeitplymouth
Instagram: @madeitplymouth