Open Thursdays & Fridays, 4-9p & Saturdays, 12-9p, through August 31st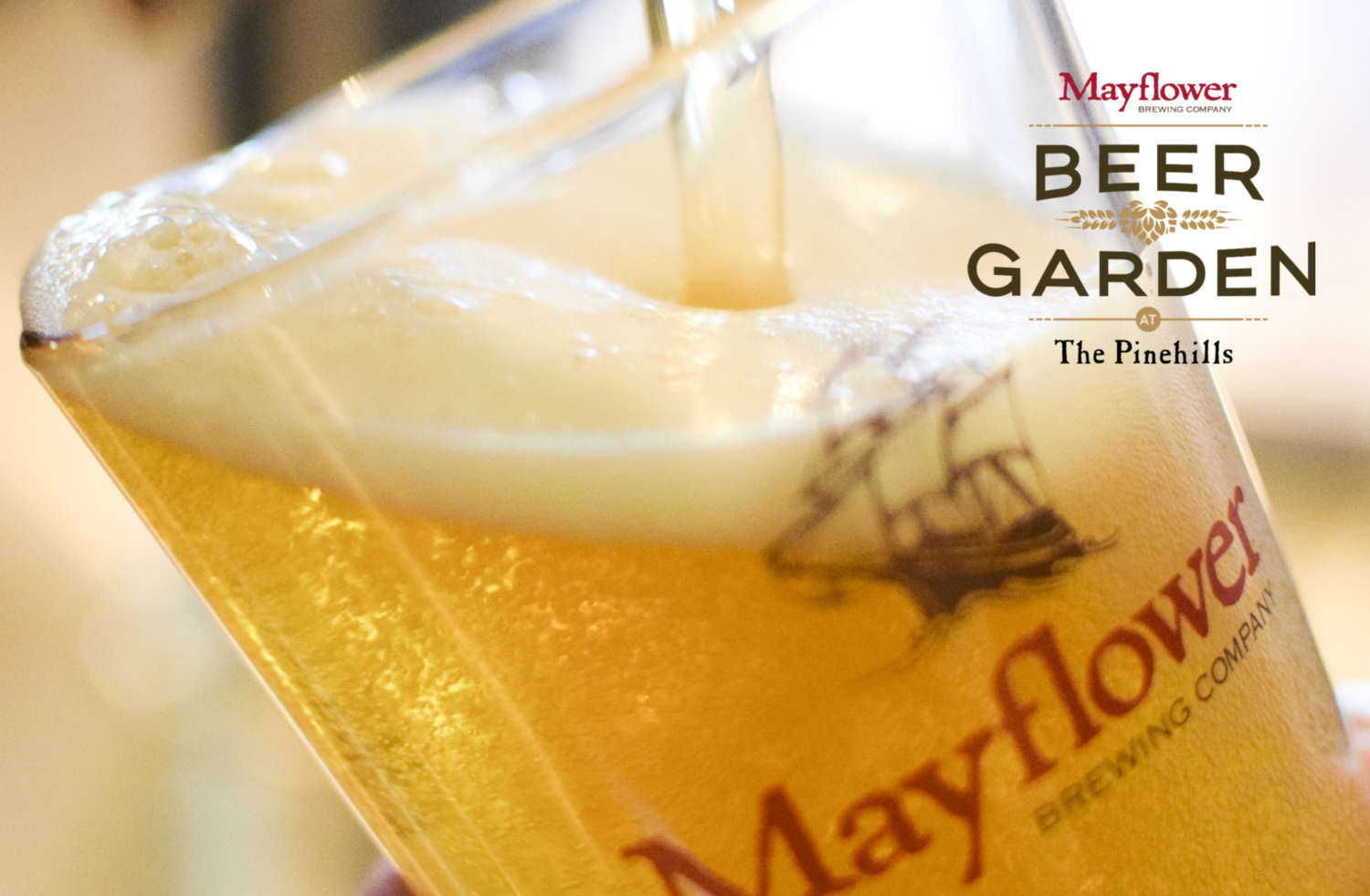 As summer heats up, everyone can now enjoy a cold one at the Mayflower Beer Garden at The Pinehills every Thursday and Friday from 4-9pm, and Saturdays from Noon – 9pm, beginning May 30th on The Pinehills Village Green. In addition to the eight Mayflower craft beers on tap, there will be a selection of well-known wines to enjoy, plus lawn games, live music, a pop-up artisan village and a rotation of food trucks, including the chef-inspired and internationally-known Wahlburgers Food Truck scheduled for most Friday evenings.
"It will be a great evening out with something for everyone," says John Judge, president of The Pinehills. "Enjoy the beer garden, have a bite, challenge a friend to a game of corn hole, sit back and listen to music, and browse through the artisan pop-ups. We are thrilled to partner with Mayflower Brewing, a great and respected company from right here in Plymouth. It is going to be a very special summer at The Pinehills."
The Mayflower beers available on tap at The Pinehills will vary but include:
- The Pinehills Pale Ale (A special beer garden only release.)
- IPA
- Porter
- New World IPA
- Boomerang Hoppy Pale Ale
- OttoBahn Lager
- Summer Ale
- Love & Wrestling Double IPA
"We're really excited to be partnering with Pinehills LLC," says Drew Brosseau, president and owner of Mayflower Brewing Company. "The Pinehills Village Green is an ideal spot to relax and enjoy some of our many Mayflower craft beers that range from IPAs to lagers to porters and more. If you have a favorite style of beer, we have it! Working with The Pinehills to build this new venue makes the Beer Garden a true Plymouth destination."
Check out all the Mayflower Beer Garden details, including beers on tap, scheduled food trucks, music, artisan pop-ups, weather-related schedule changes and more: coming soon to pinehills.com & mayflowerbrewing.com. And, follow on social media: Instagram @the_pinehills and @mayflowerbrew or Facebook @ThePinehills and @MayflowerBrewingCo
About Mayflower Brewing Company
Mayflower Brewing Company – America's Hometown Brewery® - is a craft beer microbrewery located in historic Plymouth, Massachusetts. Founded in 2007 by a tenth great grandson of John Alden, beer barrel cooper on board the Mayflower, we are dedicated to celebrating the history and legacy of beer in America by creating an ever-changing variety of high-quality ales and lagers.
About The Pinehills:
Nearly 20 years ago, and more than 2,500 families ago, The Pinehills began in Plymouth, MA. Now this well-established village is one of the nation's most celebrated examples of thoughtful community planning and design. More than 100 awards, including "Community of The Year," "Best Mixed-Use Community in The U.S.," "Best Master-planned Community in the U.S." and "Best Smart Growth Community in the U.S.," recognize The Pinehills for its quality and environmental stewardship. Holding true to the village's original vision—a robust sense of community, active open space, and intimate neighborhoods—The Pinehills includes more than 3,000 acres, 2100 homes and growing, and more than 25 shops, restaurants and services at the Village Green all open to the public, including Mirbeau Inn & Spa and The Market The community was designed and continues to be developed under the visionary partnership of Steve Karp, Douglass Karp and Steve Fischman of New England Development; Tony Green, The Pinehills managing partner; Alan Green and Dan Green of The Green Company, and Tom Wallace of Wallace Associates.