Elegant Resort Project Will Create 250 Construction Jobs Now and 140 Full- and Part-Time Jobs Upon Completion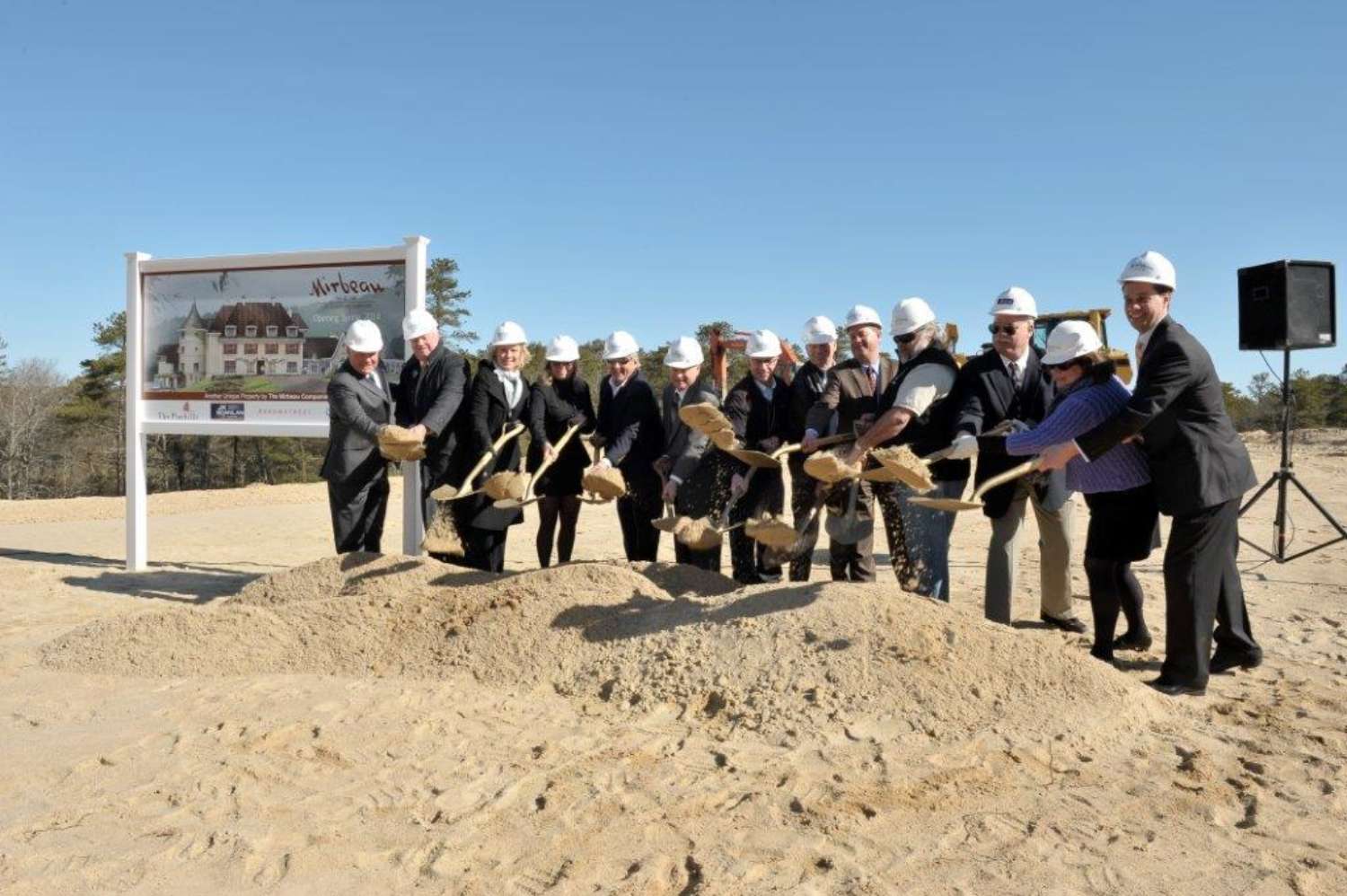 SKANEATELES, N.Y. – April 4, 2013¬ – The Massachusetts tourism industry got a major boost today with the groundbreaking of the Mirbeau Inn & Spa at The Pinehills. Linda and Gary Dower, Principals of The Mirbeau Companies, and Tony Green, Managing Partner of Pinehills, LLC, were among those who joined in the ceremony and reception today for the new Mirbeau Inn & Spa at The Pinehills, located at 35 Landmark Drive at The Pinehills Village Green in Plymouth, Mass.
Slated to open spring 2014, Mirbeau Inn & Spa at The Pinehills will be an elegant 50-room getaway designed in the style of a French Manor House. The new resort, designed to be the perfect destination for leisure or business, will include a 14,000-square-foot Spa Mirbeau, a fine dining restaurant, and a unique Wine Bar/Bistro. Mirbeau will overlook the Village Green as well as the 18th hole of the Rees Jones Golf Course. For celebratory gatherings, there will be inside banquet and meeting spaces along with a romantic garden venue for weddings and special occasions. Spa Mirbeau will offer a wide range of services and treatments including massages, body wraps and body scrubs, facials, manicures, pedicures, and couples treatments. Spa Mirbeau will also feature yoga and fitness studios, state-of-the-art aerobic exercise equipment, locker rooms with eucalyptus-infused steam rooms, and an outdoor hot massage pool.
Mirbeau Inn & Spa at The Pinehills will be the second property in the Mirbeau Collection, and joins the original Monet-inspired retreat located in the Village of Skaneateles, in the picturesque Finger Lakes Region of Central New York. Renowned for its award-winning accommodations, spa, dining, and world-class service, Mirbeau has become a highly-regarded destination for guests from near and far.
Designed by Boston-based architectural firm Arrowstreet, Mirbeau Inn & Spa at The Pinehills commenced construction this month. Situated just 45 miles from Boston and eight miles from Cape Cod, the retreat features a distinctive building style reminiscent of a romantic French country manor house. The grounds will feature Mirbeau's beautiful signature Monet Pond Gardens, inspired by the renowned French Impressionist's gardens at Giverny outside of Paris.
"We are delighted to introduce the Mirbeau brand to New England with this one-of-a-kind regional destination property," said Linda Dower, principal of The Mirbeau Companies. "We share a similar philosophy with The Pinehills and it is the perfect location for us to serve the Boston/Providence regional market area. It is an excellent marriage of brands."
"Mirbeau Hospitality Services is thrilled to be appointed to manage a second Mirbeau property," said John Logan, CEO of Mirbeau Hospitality Services. "With the great success of Mirbeau Inn & Spa in Skaneateles, N.Y., we are overjoyed to be able to join the flourishing and award-winning Pinehills community. We know that the new Mirbeau Inn & Spa at The Pinehills will become a wonderful social center for The Pinehills and the Town of Plymouth."
"We have long-awaited a fitting hospitality partner to join The Pinehills, and Mirbeau Inn & Spa aligns perfectly with our vision," said Tony Green, Managing Partner of Pinehills, LLC. "We are excited about the new addition and are confident in Mirbeau's appeal to both local residents and out- of- town visitors."
Photo caption (L-R): Tom Calter (Mass State Rep.) Tom Wallace (Wallace Associates), Dawn Neher (New England Development), Linda Dower (Mirbeau Inn & Spa), Gary Dower (Mirbeau Inn & Spa), Richard Littlefield (Camden National Bank), Tony Green (Managing Partner, Pinehills LLC), Malcolm MacGregor (Town of Plymouth Planning Board), Matt Muratore (Town of Plymouth Selectmen), Marc Garrett (Town of Plymouth Planning Board Chair), John Scanlan (JK Scanlan), Belinda Brewster (Town of Plymouth Selectmen), Vinny DeMacdeo (Mass State Rep.)