Recognizing the World's Best Hotels, Resorts, Countries, Cities, Islands, Spas, Airlines, Airports and Cruises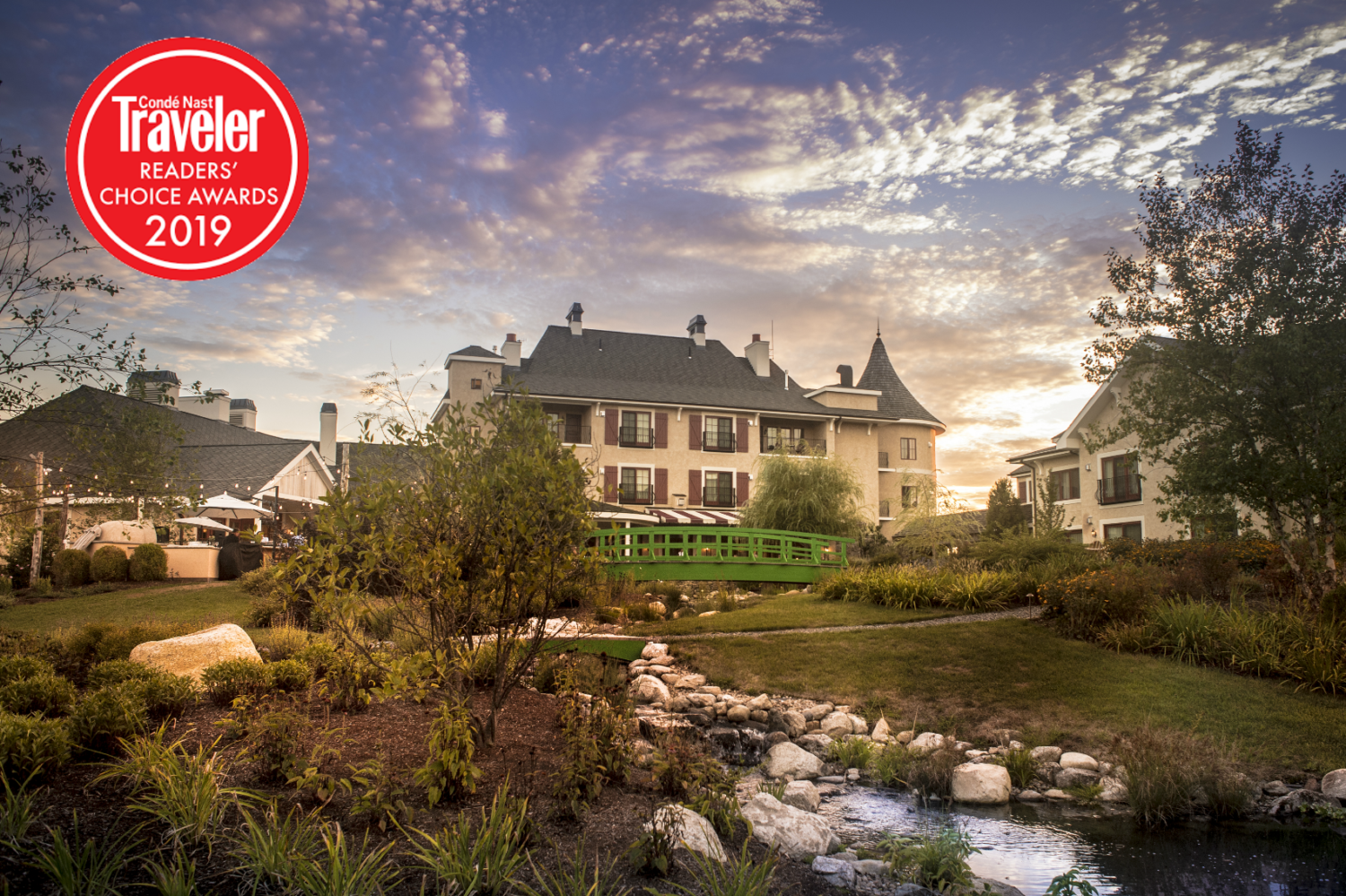 Mirbeau Inn & Spa Plymouth, at The Pinehills Village Green, has been voted among the Top 25 Resorts in New England by the prestigious Condé Nast Traveler's 2019 Readers' Choice Awards.
More than 600,000 Condé Nast Traveler readers across the globe submitted a recording-breaking number of responses rating their travel experiences to provide a full snapshot of where and how we travel today. Mirbeau ranked number 19 with a score of 93.5 and outranked other resort hotels across the six New England states.
The Condé Nast Traveler Readers' Choice Awards are the longest-running and most prestigious recognition of excellence in the travel industry and are commonly known as "the best of the best of travel." The full list of winners can be found here.
"We are so honored to be recognized by Condé Nast Traveler," said Patty McPherson, Resort Manager. "As a young property, it speaks to the success we've had in achieving our mission of providing a place of tranquility, restoration and balance. Each day, we focus on providing thoughtful and unparalleled service to our valued guests, and we look forward to the continued evolution of our amenities and offerings."
The 2019 Readers' Choice Awards are published on Condé Nast Traveler's website at www.cntraveler.com/rca and celebrated in the November issue of Condé Nast Traveler US and UK print editions.
About Mirbeau Inn & Spa
Mirbeau Inn & Spa Plymouth is an elegant 50-room inn, reminiscent of a French estate, surrounded with beautifully landscaped Monet gardens, complete with tranquil waterfall and Koi fish ponds. Mirbeau leaves its guests feeling at home and cared for by a skilled staff who ensure an exquisite and worry-free experience during their stay.
The property combines the amenities of a boutique country inn with a comfortable and elegant feel, a world-class spa, and nationally acclaimed fine dining. Open since 2014, Mirbeau has been recognized by Forbes Travel Guide; named to Condé Nast Traveler's 2015, 2016, 2017, 2018 and 2019 Readers' Choice Awards, a compilation of the best hotels and resorts in the world; Travel + Leisure World's Best Hotels in 2017 and 2018 and is a AAA Four Diamond-designated property.
Mirbeau also features the 14,000-square-foot Spa Mirbeau, the Henri-Marie venue, The Bistro & Wine Bar, The Garden Bar, as well as superb meeting and banquet spaces. For more information, please visit: http://plymouth.mirbeau.com/ .
About Condé Nast Traveler
Condé Nast Traveler is the world's most distinguished travel title providing inspiration and advice for discerning travelers. Authoritative and influential, Condé Nast Traveler is a multi-platform, transatlantic brand. Publishing US and UK print editions under Editor-in-Chief Melinda Stevens, Condé Nast Traveler offers award-winning expertise in luxury travel from around the world. For more, visit www.cntraveler.com.