In Plymouth, meals are more than a necessity; they're bringing people together.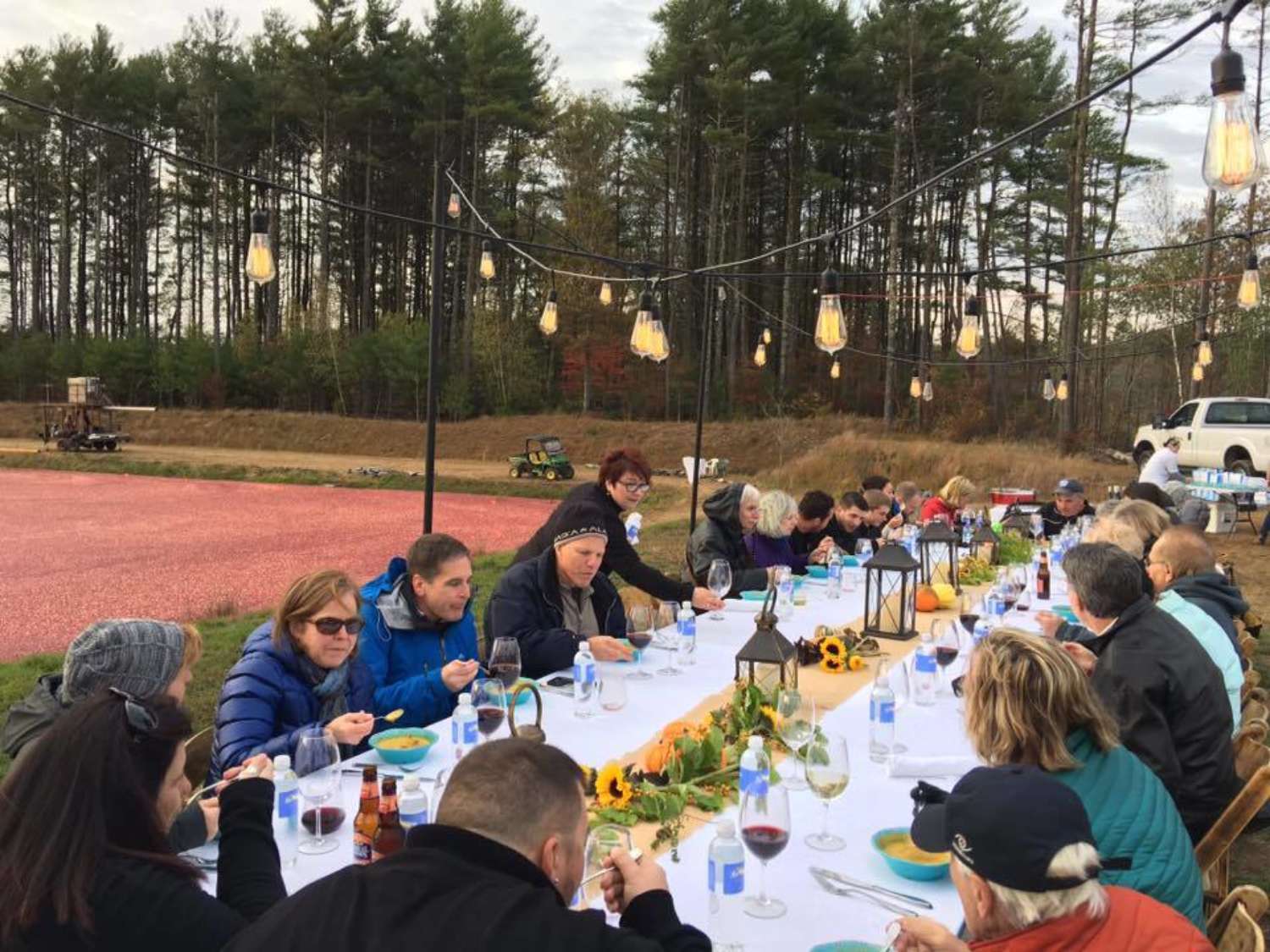 By Zach Giordano for The Pinehills

Few moments are as special as breaking bread in celebration of important milestones. In these moments, we know the food we're eating is more than a meal.
Food is powerful. It brings us together, shapes our memories, and empowers our communities. Though easy to forget while we're rushing through our day, sharing a meal is an intimate experience, and those who sit beside us at the table can feel this intimacy: Bonds with loved ones become stronger, and strangers feel like strangers no more.
In shaping the village of The Pinehills, the power of food kicked off a conversation that has not only helped its neighborhoods grow, but has continually helped its community thrive.
Appetizer: The psychology of dining
In addition to its benefits to the soul, food, specifically when shared and experienced with others, has also shown to benefit our minds and enrich our feelings toward other people. During a recent discussion on the NPR podcast "Hidden Brain", social psychologist Shankar Vedantam shared his findings on how eating the same foods together increases people's trust and cooperation with one another.
"To eat the same foods [as another person] suggests that we are both willing to bring the same thing into our bodies," explained Vedantam. "People just feel closer to people who are eating the same food as they are. And then trust, cooperation—these are just the consequences of feeling close to someone."
The notion of building trust by sharing food may not seem earth-shattering, but when put to good use, it can have longstanding effects. Like what happened in the early planning stages of The Pinehills.
Before The Pinehills became the village it is now, it needed to learn what people—and potential residents—were truly looking for in a community. To do this, the development team started their research behind the glass at a traditional focus group.
But the first real insight came after the focus group was over—and the hors d'oeuvres were served. As Tony Green, managing partner of The Pinehills, says, it was then that people were more apt to share how they really felt.
"We were told there was more value in the 30 minutes at the end than there was in the hour and a half behind the glass," said Green. "The food was part of what made the conversation better."
After hearing this, the team knew what they had to do: conduct their own workshop with more people and more food. They organized intimate breakfasts and, over time, invited more than 300 people to come share their vision for the ideal home and community.
"After these discussions, we saw just how much hunger there was for community," said Green.
The simple act of sharing food (in this case a breakfast meal, ever-important that it is) led to groups trusting each other and openly sharing their thoughts and ideas. To everyone's surprise, the meals they shared those mornings had a lasting effect on what would later become the best community in the country.
Entree: A growing village
But no community is complete without a grocery store and a few local restaurants. And considering how important food was to its development, The Pinehills holds each of its restaurants in high regard.
"We wanted to make sure we provided a variety of different ways for food to be a part of the community," said Green. "For us, choosing the right entities, chefs, and restaurants to do that was crucial. And now, the fact that one chef's skills differ from another is great because not everybody has the same tastes and preferences. We want to make this a place that's welcoming for everybody."
Throughout the community there are six spots where one can grab a bite, including a casual, family-owned Italian restaurant, a lunchtime café, the chef-directed kitchen at The Market, and a bar and grill located on the only five-star public golf course in Massachusetts.
The other two restaurants, The Rye Tavern and Mirbeau Inn & Spa, play arguably the biggest part in bringing the community together—for reasons that go well beyond what's on their menus.
Located along the oldest unpaved road in the country, Rye Tavern, built in 1792, overlooks a six-acre field of rye as well as its own personal garden, from which ingredients seen on its constantly changing menu are harvested. In addition, The Rye Tavern works with local and regional farms and food purveyors for its menu.
Emphasizing a small, come-hang-out atmosphere, Rye Tavern is an essential thread in The Pinehills tapestry. With locally sourced and homegrown items on its menu, a 30-seat outdoor bar and patio that often hosts lawn games and live music acts, and a location that offers quite the escape, it's the perfect place to enjoy a midweek getaway or weekend retreat. The tavern is open daily to the general public for dinner and serves brunch on the weekends.
In sharing her experiences with food, Rye Tavern's General Manager Jessica Bailey spoke about the effect a good meal and casual atmosphere can have on her guests: "There's always so much to talk about with food. And the talking becomes a way to meet new people, share happiness and recipes, talk about the techniques your grandmother used, and so on. All this is what really makes an experience memorable—and what brings communities together."
On the other end of the spectrum lies Mirbeau Inn & Spa, a destination for relaxation and French-inspired cuisine. Stephen Coe, a passionate and talented chef who moved from California for the chance to work at Mirbeau, crafts the menu, which is constantly evolving with new tastes and techniques.
After proving his skills at a tasting event and landing the position of head chef, Coe had a mission of making Mirbeau a neighborhood destination.
To achieve this, Coe knew he had to work throughout the regional South Shore communities to showcase his skills. He entered himself into a few local competitions, referred to as "hometown throwdowns," and built up a culture and reputation around food outside of The Pinehills' grounds. He also prepared over-the-top brunches that not only garnered attention, but accolades as well, including Best Brunch on the South Shore.
"I tried to do as much in the community as possible," said Coe. "I work with farmers, beekeepers, local vendors, and people like that to build a community I could rely on at the Inn. After all that, I then turned all my focus on Mirbeau."
The relationships that Coe built throughout the surrounding region as well as with suppliers all soon paid off, as did his frequent trips from the kitchen to the dining room to personally speak with guests about their experience.
As a prominent fixture of the community who prides himself on his relationship with its members, Coe also takes the opportunity to move his skills out of the kitchen and brings diners to local shores for fresh oyster dinners between tides, or a cranberry bog harvest dinner for a perfectly tart seasonal meal.
Dessert: A bounty of memories, with more to come
As social science has proven, food has a bigger effect on us than just satiating our hunger. Eating the same food builds trust, dining together builds relationships, and cooking good food builds communities that are second to none.
In Plymouth and at The Pinehills, food has taken its rightful place as a pillar of community, through important discussions, talented chefs, and locations where you can dine, unwind, and be yourself. As it continues to evolve, keep an eye out for the exciting ways the food—and foodies—in town are leading the charge.
And if you're ever in the neighborhood, don't be afraid to pull up a chair.