And More Updates From Our Favorite Place to Relax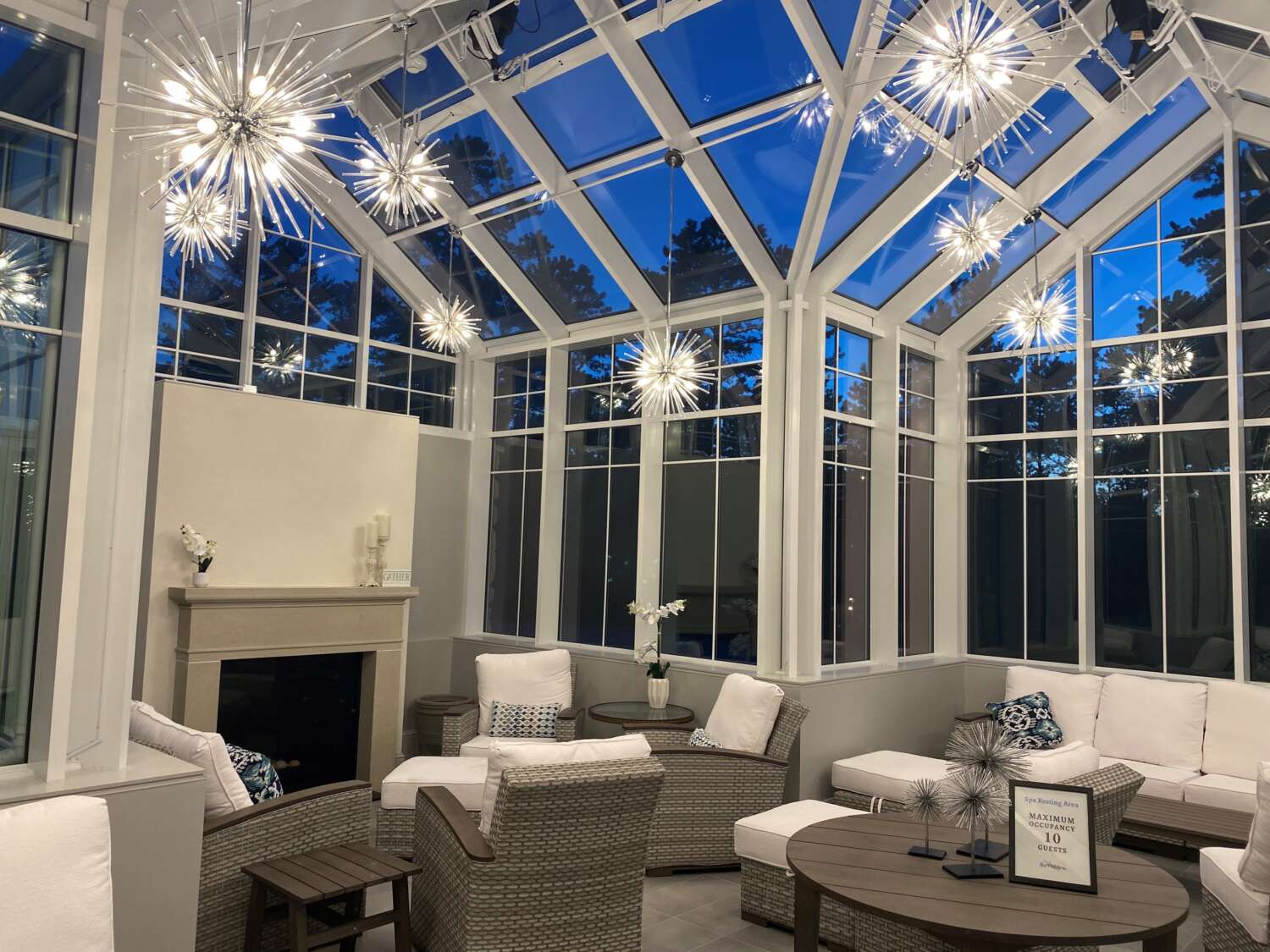 The Pinehills is proud to be home to the South Shore's most luxurious destination for all things self-care - Mirbeau Inn & Spa
Let's face it – 2020 has us taking care of everyone and everything, and mostly forgetting to take care of ourselves. We're here to tell you: it's okay to take a day off. Self-care means giving yourself permission to pause. Relax. How about in a gorgeous new Solarium at Mirbeau? Let's do this!
Like most businesses over the last six months, Mirbeau's had to adapt, but now have the majority of their amenities and offerings available to guests with new safety procedures in place. From virtual wellness to onsite spa services, overnight accommodations to dining, Mirbeau is OPEN.
We caught up with Mirbeau Inn & Spa General Manager, Patty McPherson, to find out exactly what's happening at Mirbeau and how well equipped they are to address our extreme self-care needs!
PH - While the Mirbeau brand has been focused on self-care for the last 20 years, and never have we needed it more, operations had to shift this year. How has Mirbeau pivoted during the pandemic?
PM - While we were closed to the public; we still had a presence in the building. We spent time cleaning, preparing for re-opening, doing training, learning protocols, communicating with employees and management, purchasing equipment, readying the property, and doing everything to flip the switch when we got the green light. The staff was also very blessed because the owners generously offered to pay staff through the shutdown, so we worked hard. We were more than ready to have guests come back!
PH - During our walks around The Pinehills this spring and summer we've seen lots of activity taking place around Mirbeau's Aqua Terrace. Anything new to tell us?
PM - Ah yes. The new Solarium! It's a beautiful new space which is a casual gathering spot.
Because we have been lucky enough to have a popular and successful spa at Mirbeau, with over 100 treatments taking place daily, we needed to accommodate the number of guests spending time here. We also needed to expand our spa program. Over the last year (and throughout the COVID shutdown,) our construction project resulted in 6 additional spa treatment rooms, an expanded Aqua Terrace with an outdoor fireplace, expanded seating, and now our new Solarium.
PH - So, if you're staying overnight or enjoying a day at Spa Mirbeau, treatments can still be part of the experience?
PM - We have adopted all the health and safety protocols that are necessary, but have not diminished the luxury or guest experience components in any way. Our spa treatments are just as expansive as they were 6 months ago – seasonal treatments, massages, facials, body treatments, nail treatments, day spa packages, kurs, and more. View Available Spa Treatments
PH - You've also created an amazing Virtual Wellness program. Will there be more in the coming months?
PM - Yes! Our Virtual Wellness program is an extension of Mirbeau offerings on property, and will be expanding from fitness to other areas such as culinary and mental wellness programs. Our philosophy of "life. classically balanced." guides our programming. Our Virtual Wellness offerings include access to over 50 live stream classes weekly with motivating instructors that will keep you accountable. Monthly memberships along with drop-in options are available. View Virtual Wellness Options
PH - Nothing is more relaxing than getting away from home for a night or two whether you're a 5-minute drive or a 5-hour drive from Mirbeau. What accommodations are available?
PM - All of our classic rooms' packages are available plus, we currently have a couple overnight specials of note: our Passport Program earns you a complimentary stay with spa whenever you stay at any 3 of our locations in 2020; the Restore Balance package is all about relaxation. View Hotel Packages