June 15, 2019 10:00am – 4:00pm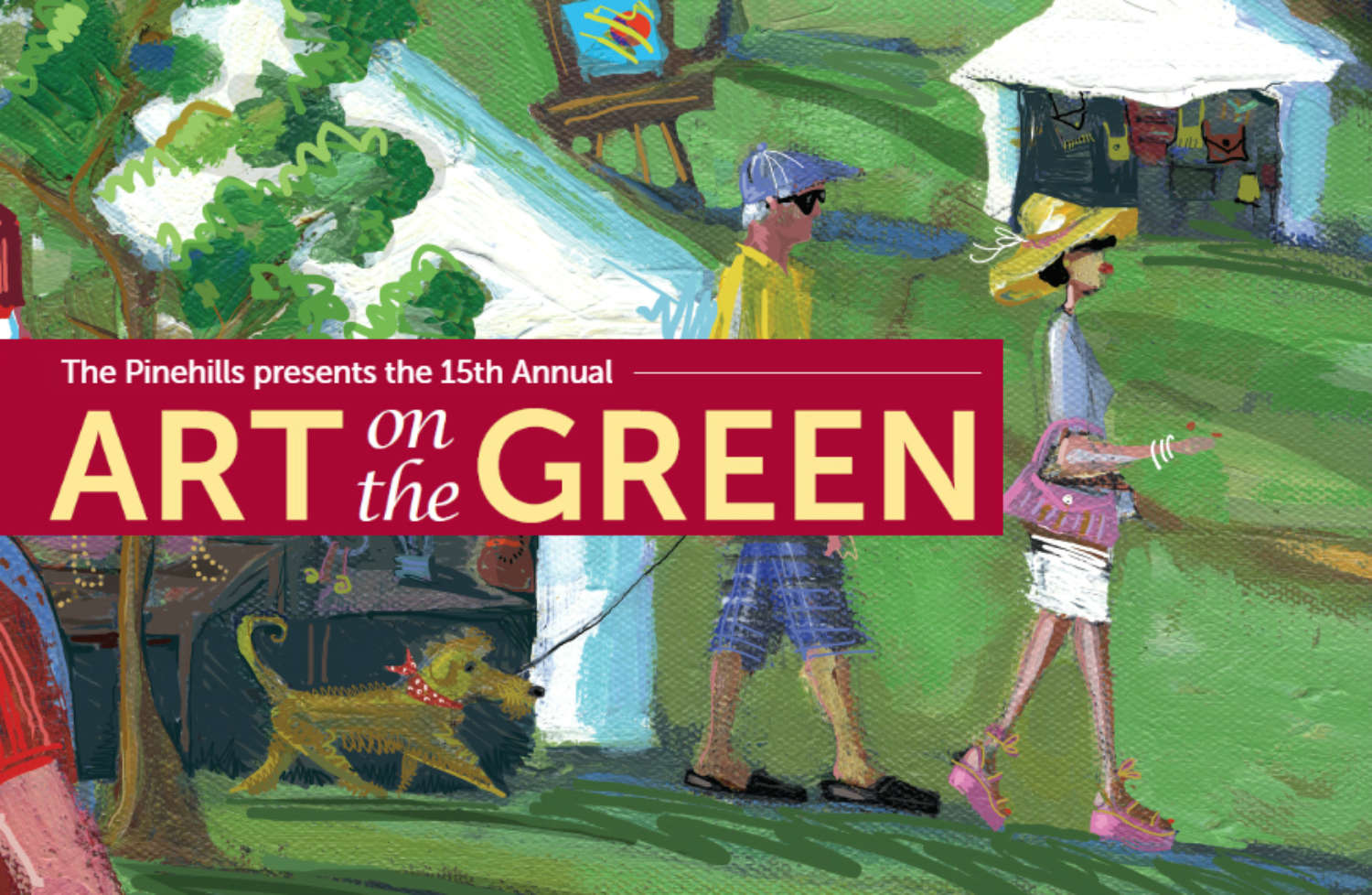 Join us Saturday, June 15 for Art on the Green at The Pinehills
Art on the Green, now in its 15th year, is a wonderful showcase for the work of nearly 70 regional and local artists.
For your enjoyment:
10am-4pm Fashion Trucks by Bohemian Babe Boho to Go & Mermaids on Cape Cod
11am-1pm KISS 108's Lisa Donovan On hand with the Street Team with prizes, games, and more!
11am-3pm Steel Band Music by Magic of Steel
NEW! At The Mayflower Beer Garden
11am-9pm Food Trucks by Da Bomb Truck, Plymouth Party Truck and Sadie Mae's Cupcakes at the Mayflower Beer Garden
Noon-9pm Mayflower Beer Garden at The Pinehills
Noon-9pm Handmade local art pop-up shop brought to you by Made it!
1pm-4pm Live Music by Abby Vail at The Mayflower Beer Garden
4pm-6pm Country 102.5- Meet Carolyn Kruse and the Street Team featuring games, and giveaways.
5pm-8pm Live Music by Chloe James at The Mayflower Beer Garden
Plus, delicious Food Options from Mamma Mia's, The Market, Rye Tavern, East Bay Grille at Pinehills Golf Club, The Bistro & Wine Bar at Mirbeau Inn & Spa, The Blueberry Muffin, & Food Trucks.
HEY KIDS, be creative!
10am-4pm Design a Tie for Dad! For a donation of $5 we'll give you the white tie and colored pens. Just add your imagination. Proceeds benefit The Home for Little Wanderers Southeast Campus.
11am-3pm Free Face Painting and Balloon Art for kids!


More to Do!
11am-3pm Toll Brothers stop by their tent to learn about their newest neighborhood in the heart of the Village Green
11am-3pm Laurelwood at The Pinehills Stop by their tent on Village Green North for a taste of homemade strawberry shortcake and view artwork from Laurelwood's Artist in Residence program. (While supplies last.)
11am-3pm Cape Cod 5, Harrington Property Management & Norwell VNA & Hospice Goodies and giveaways from our neighbors along Village Green North. (While supplies last.)


TODAY ONLY! Custom & Cottage Model Homes Shuttle Tour from the Village Green
10:30am-3:30pm | Shuttles originate at The Cleanist Shuttles run continuously from the Village Green to participating model homes. Last shuttles leave model home at 3:30pm for the Village Green.
Walking Stick by Barefoot Cottage | 16 Walking Stick NEW MODEL HOME Tour this charming new model home and neighborhood as part of the Shuttle Tour.
Climber's Path by MacKenzie Brothers | 19 Climber's Path Tour this one-level living courtyard home with eco-friendly features, as part of the Shuttle Tour
Whitman Homes | 45 & 48 Poet's Corner Tour a move-in ready and a designer decorated cottage model home, as part of the Shuttle Tour.
MacKenzie Brothers | 9 Morning Stroll Take in the charm of this move- in - ready home, perfect in-village living with options for a private office or in-law living with its own entrance.


Parking Details
FREE Public Parking is located at our Beaver Dam Road Lot.
FOLLOW EVENT PARKING SIGNS AND PARKING ATTENDANTS AS DIRECTED.
FREE SHUTTLE provided between the parking lot and Market Crossing.
For public safety, Arts Market guests parked in NO PARKING AREAS WILL BE TOWED.
Featured Artists by Product Category
Baby & Kids
A Horse of a Different Color
Bath & Body
Bea Soapy
Felted Soap by Jo
Lazy Daze Lavender Fields
LMP- Soapworks
Ceramics & Pottery
Chrissy Ann Ceramics
Clam Pudding Pottery
On The Cusp Pottery
Pat Viella Pottery
Sarah Kelly Ceramics
Clothing
Amisha Design
Avani Original Art
BABS - fine handmade handbags
Heather Bell Designs
Indigo Hats
Mijiza Images
Sixteen Twenty
Tidal Effects
Fiber & Knitted Goods
Can't Resist Pillows and More
Kent Farm Scarves
MapSacks
Pam's Pashmina's
sac A main
Garden
Bird Mansions
Mermaids Baubles
RI Artisan Birdhouse
Glass
Beach Memories - Sea Glass Pictures
Christine Cotton Lampwork Glass
Kim's Painted Glass
Jewelry
Bailey Creations
Cesars World
Crooked Moon Studio
Heavenly Cranes Jewelry
Impromptu Jewelry
Kinsale Designs
Mahjonggremade
Meena Creations
M.E.R. Joolz
Sea Shimmer - Sandra Cira
Stephen Rosenberg Jewelry Design
Studio G
Swirls Jewelry
The Sandpiper Company
Painting & Drawing
Art by Debbie Did It
Artful By Nature Studio
Cardinal Creations by Doreen Barton
Carole E. Raymond Fine Art
Fran Bogden
Henderson Studio
Il Pittore Ispirato "The Inspired Painter"
Jennifer McCarthy Encaustic Wax Paintings
Tom Tracy, Artist
Paper Goods
Dri Rossi Paper Art
Katie Elizabeth Lettering and Design
Photography
Jason Cole Photography
Look at the View Photography by Dan Gyves
LXphotography
RCVUE Photography
Rob Dunn Photography
Yellow Dog Photography
Specialty Foods
Alex's Ugly Sauce
D and D Candies LLC
Mama Lucia's Biscotti
Spritzal Cookie Company, LLC.
Stir It Up Cuisine
Wood
Slyk Shades
Walk Softly Wood Art
All Details Subject to Change.
Rain Date: June 16, 2019