September 14, 2019 9:00am – 5:00pm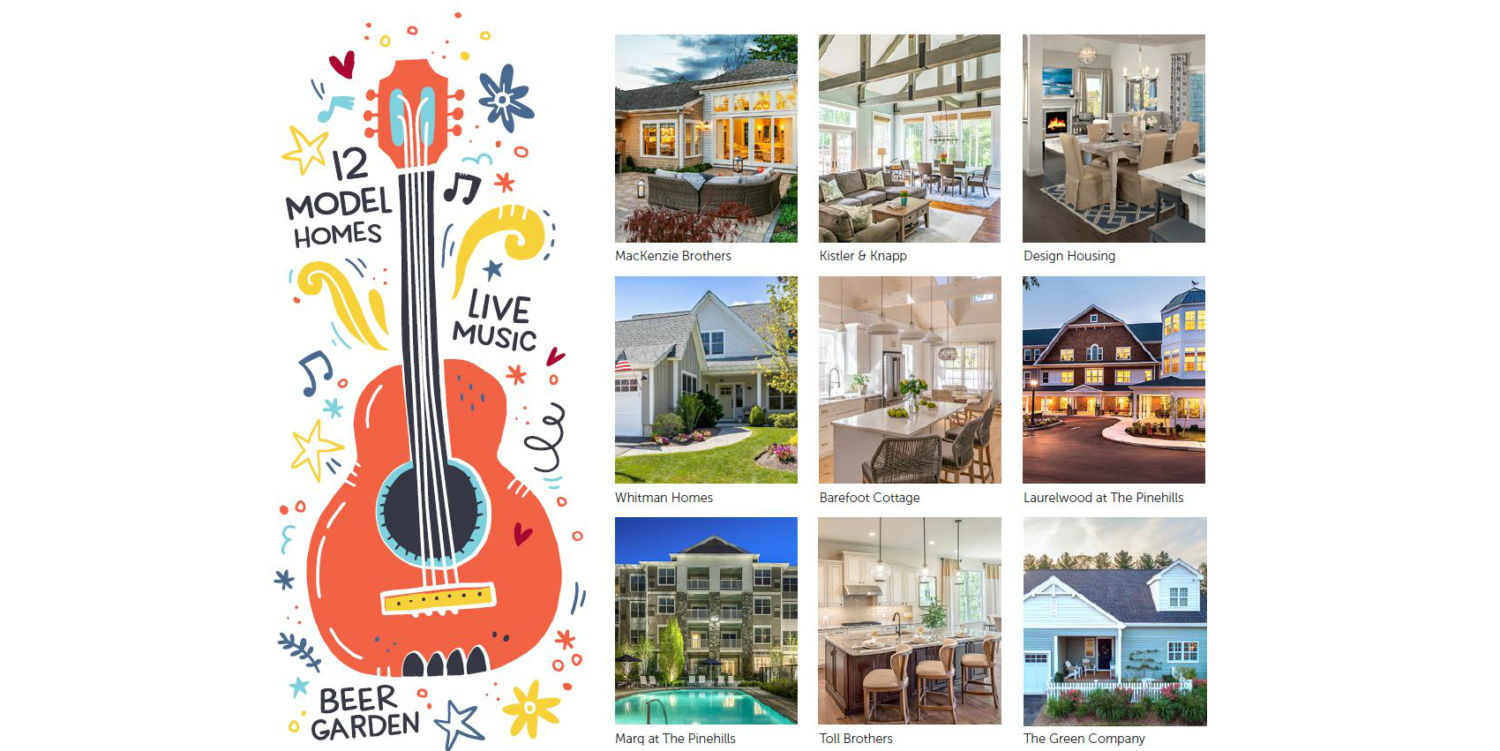 Tour Model Homes in All Shapes and Sizes

It's time for Fall Fest Open House at The Pinehills!

Come tour charming cottages, elegant custom homes and everything in between — townhomes, portfolio homes and luxury apartments. Local musicians will entertain you from the comfort of front porches along the way.
And don't miss the Mayflower Beer Garden with food trucks on the Village Green. So come make a day of it. And see why The Pinehills was named one of the "best places to live" by South Shore Living.

Stop by The Summerhouse for your Tour Map

It's our welcome center. We'll say hello, give you a fresh-baked cookie and a model home tour map, then send you off well-prepared to explore!

Enjoy Live Music at The Summerhouse by
Matt Audette - 11AM-1PM
Abby Vail - 1:30PM - 3:30PM
Builder & Model Home Activities
Model Homes are open 9 to 5 daily.
Briarwood by Toll Brothers | From the low $600's
Sales Office Open 9AM-5PM
This enclave is nestled in The Pinehills Village Green overlooking the Jones Course 18th, and close to shops, restaurants and more.
Climber's Path by MacKenzie Brothers | From the high $900's
19 Climber's Path - Model Home Open 9AM-5PM
Live Music by Jeff Hilliard - Noon-2PM
Beautiful one-level homes built around charming private courtyards. Perfect for a fire feature, pool, outdoor shower or all of the above. Inside, these open and airy homes are finished with custom cabinetry, hardwoods, and Sub Zero and Wolf appliances. Fall inspired takeaways. While supplies last.
Hatherly Rise by The Green Company | From the low 500's
11 Hatherly Rise - Model Homes Open 9AM-5PM
Live Music by Mal & Pat Fey 2 – 4PM
Green Company has introduced two new home plans – Village 1 and Village 3 - to Hatherly Rise. Come preview the homes and learn more about them directly from Green Company president, Dan Green. Plus at the models, enter for a chance to win (2) Pats tickets, and enjoy some tailgate treats! While supplies last. No purchase necessary to win.
Laurelwood at The Pinehills
10 Golf Drive - Model Apartment Home Open 9AM-5PM
Live Music by John Ahl 2 – 4PM
Be treated to fall refreshments including delicious house made Hot Apple Cider and Cider Donuts, then experience all that Laurelwood's thoughtfully designed living environment has to offer. With a bounty of benefits and amenities such as dining, housekeeping, healthcare, transportation and maintenance, plus access to all the amenities of The Pinehills, your calendar can be filled with all the activities you love to do, not just have to do.
Marq at The Pinehills
40 Pinehills Drive - Open 9AM-5PM
Live Music by Kyle Morrison - 11AM -1PM
Enjoy homemade cookies and cider, then tour resort-style apartments featuring stunning one- and two-bedroom homes, and private community areas with ample opportunities for work and play, including a clubhouse; courtyards; a pool with designated outdoor grilling and dining areas; state-of-the-art fitness center; a high-tech business center and a movie theater. Ask about Fall Lease specials

Poet's Corner by MacKenzie Brothers and Whitman Homes | MacKenzie from the high $700's | Whitman from the mid $700's
48 Poet's Corner – Whitman Model Home Open 9AM-5PM
Live Music by Tommy Booth – Noon – 2PM
These open floor plan cottages blend classic Cape Cod with all of today's new home design features. Located on a charming pocket park, these homes take full advantage of the light, orienting outdoor spaces towards the sun.
Seton Highlands by Design Housing | From the high $600's
Muirfield Sales Office Open 9AM-5PM
Only two new construction homesites remain at 55+ Seton Highlands, a single family condominium home neighborhood with western views, maintenance-free living and a strong sense of community with its own resident clubhouse and pool.
Symington Woods by Whitman Homes | From the low $400's
1 Heartwood - Model Home Open 9AM-5PM
Live Music by Jay Boyns – 1-3PM
Celebrate the opening of a new Model Home at Symington and learn about the two, award-winning townhome designs now available to build a short walk from the Village Green at Symington Woods.
Summerhouse Flex Cottages by MacKenzie Brothers | From the $900's
9 Morning Stroll - Model Home Open 9AM-5PM
Live Music by Abby Vail - 11AM – 1PM
Flexible cottage living in the heart of The Pinehills Village Green. Fall inspired takeaways. While supplies last.
Vista Point by Toll Brothers | From the high $500's
8 Woody Nook - Model Homes Open 9AM-5PM
Tour Toll Brothers spectacular models and see the newly opened Vista Point Clubhouse and Amenity Center.
Walking Stick by Barefoot Cottage | From the high 500's
16 Walking Stick – Model Home Open 9AM-5PM
Live Music by Alysia Shanahan-Belisle 11:30AM – 1:30PM
Whimsical and warm, nostalgic elements of New England vacation cottages are combined with excellent craftsmanship and design for year-round living. In Walking Stick, the home design is as fresh as the air. Special gift while supplies last.
Live Music Schedule
| Time | Location | Musician |
| --- | --- | --- |
| 11a-1p | The Summerhouse - 33 Summerhouse Drive | Matt Audette |
| 11a-1p | 9 Morning Stroll by MacKenzie Brothers | Abby Vail |
| 11a-1p | Marq at The Pinehills - 40 Pinehills Drive | Kyle Morrison |
| 11:30a-1:30p | 16 Walking Stick by Barefoot Cottage | Alysia Shanahan-Belisle |
| 12-2p | 19 Climber's Path by MacKenzie Brothers | Jeff Hilliard |
| 12-2p | 48 Poet's Corner by Whitman Homes | Tommy Booth |
| 1-3p | 1 Heartwood at Symington Woods by Whitman Homes | Jay Boyns |
| 1:30-3:30p | The Summerhouse - 33 Summerhouse Drive | Abby Vail |
| 2-4p | 11 Hatherly Rise by The Green Company | Mal & Pat Fey |
| 2-4p | 10 Golf Drive - Laurelwood at The Pinehills | John Ahl |