A "Pinehills Family" Friend is off on her Next Adventure

Love your home and live your dreams.
In the case of Carole Jenkins these words ring true. Carole, is a 16-year resident of The Pinehills and a 15-year employee of Whitman Homes. After what seems like a blink of the eye, we are bidding bon voyage to Carole as she moves to sunny, warm, Florida to be closer to her wonderful family.
She considers herself fortunate to have made The Pinehills her home, and blessed to have worked with Whitman Homes - "living" in close to 15 model homes. For Carole, being in the right place at the right time, (a Whitman model home October 13, 2005 to be exact,) led to learning about a need for a new team member. Voila! Carole was hired to her position in sales at Whitman Homes' model homes and the rest, as they say, is history!
Carole jumped into her second career with Whitman Homes after 26 years as a real estate agent and member of the board of realtors in Ridgefield, CT.
"Working with Whitman Homes never felt like work," says Carole. When she headed off the work from her home in the Wickertree neighborhood - sometimes walking on the many trails on which she regularly logged her 10,000 steps a day - she felt like she was heading to her "other" home. And for Carole, her "other" home gave her a chance to experience all the gadgets that come with owning a new home, including putting the newest ovens to use with baking cookies, and bread, and fresh rolls for her customers and guests.
When you met Carole, she showed you the beautiful Whitman Homes, but she also personified just what life at The Pinehills would be like when you moved here. From the over 100 activities available at The Stonebridge Club, to Golf, to tennis, to taking in all the dining experiences on the South Shore with the "Lunch Bunch," and of course, Bridge! Carole always found her days filled.
We think Carole has the right attitude about life at The Pinehills, "Move to The Pinehills to really live!"
A memory of Carole from Kristen White, Whitman Homes Sales Director at The Pinehills
I had just started my full-time position at Whitman Homes as a Sales Director for our Hitching Post neighborhood and we were having the grand opening of the model home. Carole had just moved to The Pinehills, was out for a walk and decided to stop in and tour. She overheard one of the sales managers mention that we needed to start looking for someone to help cover the model home. Carole mentioned that she had real estate experience and that she would be able to help out for a few months if we were interested. Little did we know that she had an extremely successful real estate career for over 35 years, and that we were going to be lucky enough to have her expertise in sales, office management, and client relations for the next 15 years. Her knowledge, with her kind, welcoming personality, has been the reason for so many sales over the years at The Pinehills. I cannot even count the number of times buyers have said to me, "Carole is the reason we decided to live here!"
It's hard to put into words how much she means to us! Carole is family to us all, and I cannot thank her enough for all that she has taught me, both personally and professionally. I will treasure our friendship forever.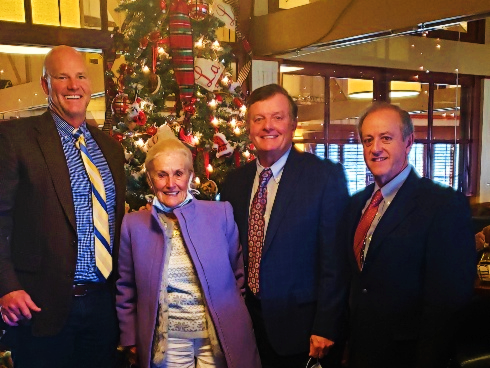 Carole Jenkins and her Whitman "Sons" : Rich Whittington, Tim Porter & Bart O'Brien