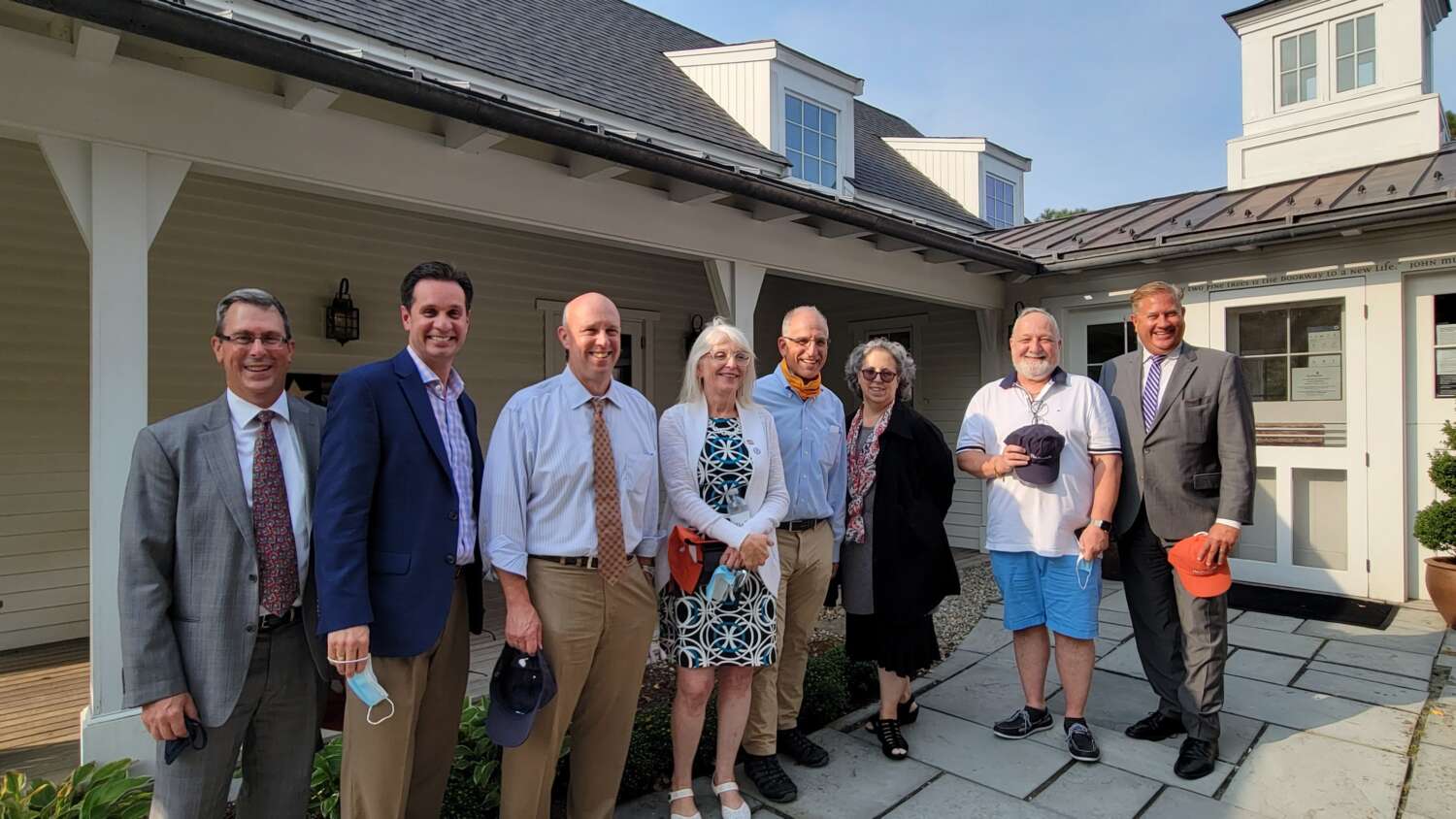 Massachusetts Secretary of Housing & Economic Development, Michael Kennealy, toured The Pinehills in Plymouth recently to see how Plymouth Town Meeting's decision to create innovative zoning under its Open Space Mixed Use Development (OSMUD) Zoning Bylaw allows for a new village center with more than 28 business and nearly 800 homes all within walking distance of the Village Green. The Pinehills OSMUD requires that 70% of the land be open space and common facilities, with the remaining 30% for 3065 homes and 1.3 million sq. ft. of mixed-use commercial development.
Kennealy toured the community with State Senator Susan Moran, State Representative Mathew Muratore, Town of Plymouth Select Board Chair Dick Quintal, Town of Plymouth Director of Planning and Development Lee Hartmann, and former State Senator Vinnie deMacedo, as well as The Pinehills' Managing Partner Tony Green, and Executive Vice President Deborah Sedares. The walking tour through the Village Green included the construction site of the newest mixed use addition, a 178 apartment home neighborhood that will also include 7000sf of ground-floor retail being undertaken by The Bozzuto Group, New England Development and The Pinehills.
The Pinehills is larger than the town of Belmont, and collectively, the biggest taxpayer in the Town of Plymouth, adding over $1.4 billion in assessed value to the Town's tax base. The Pinehills has been named Community of the Year, Best Smart Growth Community and Best Master Planned Community in the United States by the National Association of Homebuilders, in part for demonstrating a respect for nature in both new home neighborhoods and the new mixed use center in the Village Green.

Seen in the group photo above from left to right is Hartmann, deMacedo, Kennealy, Moran, Green, Sedares, Quintal and Muratore.