At Home or Dining Out, Our Favorite Foodie Spots Have you Covered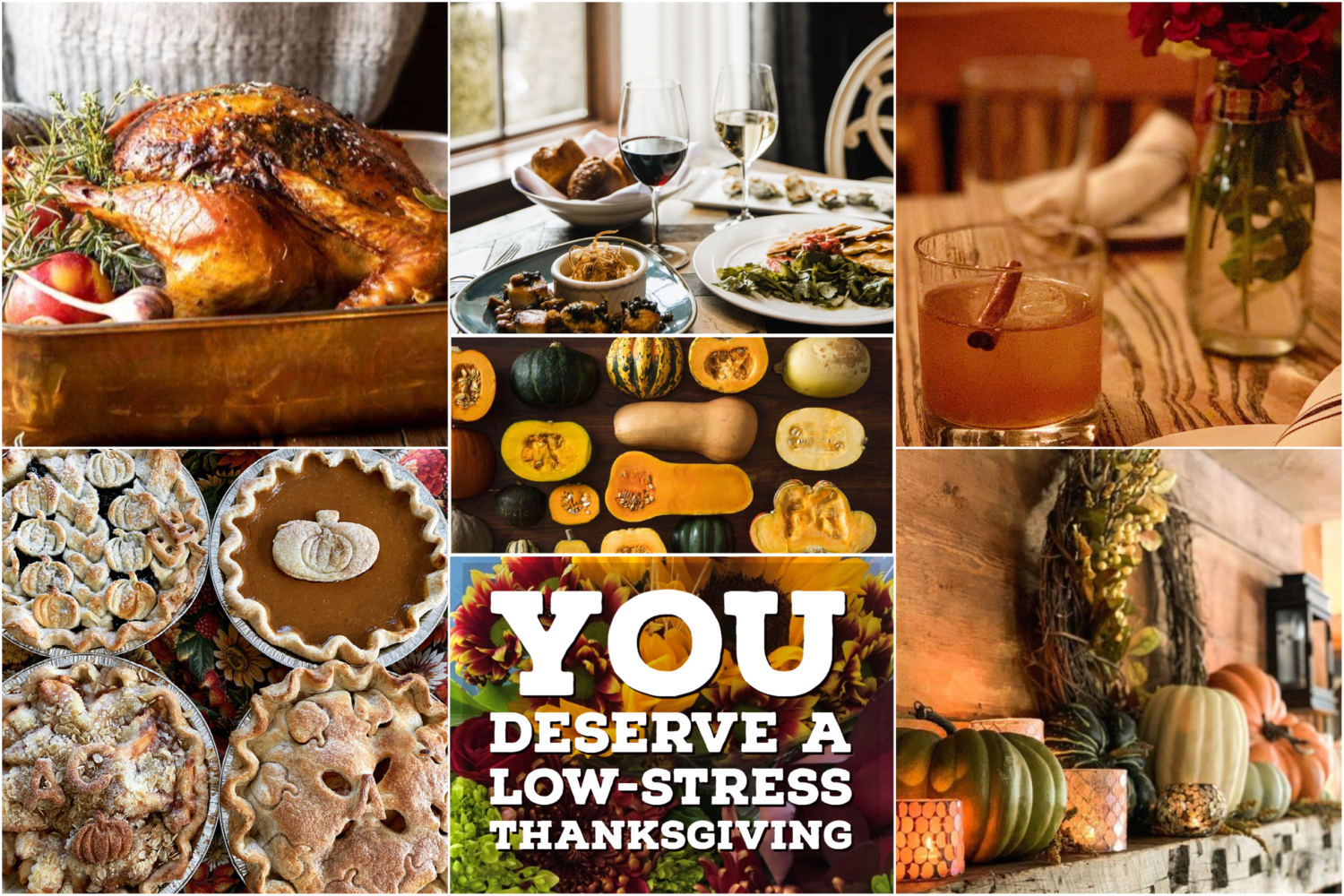 Repeat after us, "Thanksgiving dinner does not have to be stressful." We're here to help with everything to get you through the Thanksgiving Holidays and it's all right here at The Pinehills. So first we ask, what's your Thanksgiving Style?
🦃 I'm Serving Thanksgiving at My Home.
The Market at The Pinehills
Our go to place for all things food is The Market at The Pinehills. Whether you plan to cook a feast yourself, or want to order a freshly prepared meal so you only have to set the table, once you know how many you're feeding, and the menu, the rest of the day is a piece of (pumpkin) pie! This year they have created a "Turkey Day Game Plan to help you organize!
THE MARKET'S TURKEY DAY GAME PLAN:
• Place your holiday orders as soon as possible. Deadline Friday, 11/20.

• The Market's Menus are at Thanksgiving Menu & Bakery Holiday Pies. Call 508.209.0000 to order.

• Provide a pick-up date and time. Adhere to your time slot.

• 11/24-11/25 The Market is open 7am-7pm. The first hour is designated to seniors.

• The Market is CLOSED Thanksgiving Day

• Make a shopping list ahead of time. Order by shopping route.

• Try to get all of your non-perishable items the week prior.

• Use The Market's Thanksgiving-Eve store map to help navigate efficiently.

• Grab a cart before entering the store, especially if you're picking up an order.

And if you're feeling adventurous here are a couple of recipes to try out - Pumpkin Bread with Cream Cheese Swirl and Vanilla Chai Pumpkin Latte Cupcakes w/ Cinnamon Brown Sugar Frosting -
You can even pick-up fresh flowers or a centerpiece. The Market really does have everything!
---

Rye Tavern

Just in time for Thanksgiving, Rye Tavern will host their Harvest Farmers Market on Monday, November 23 from 11a - 2p.
Shop local farms and vendors for fresh local produce, locally made artisan foods for the big day. Take a look at who will be there and what yummies you can pick up for the holiday feast.

Skinny Dip Farms - Shop their big selection of certified organic veggies including salad greens, cooking greens, onions, leeks and shallots. Lots of root vegetables, winter squash and a rainbow of radishes.
Sweet & Salty Farm - With eight kinds of cheese made using their own original recipes, your charcuterie board will be a show stopper.
Fresh Meadows Farm - Thanksgiving is not complete without plenty of fresh, local, certified organic cranberries!
Hillside Mushrooms - You will look like the star you are with the eight different gourmet variety of mushrooms - Blue oysters, Golden oyster, King oyster, Pink oyster, Shiitake, Maitake, Pioppino and Lions mane.
---
Blueberry Muffin at The Pinehills
The Pinehills loves having the Blueberry Muffin as part of our family on the Village Green. Delicious breakfasts and lunches but also all their fresh bakery items. If you are looking for a fresh homemade pie for the Thanksgiving table call them at 508-927-4566. And maybe pick up some doughnuts while you're there.
---
Long Ridge Wine and Spirits
Don't forget drinks! Our friends at Long Ridge Wine and Spirits https://www.pinehills.com/whats-here/directory/long-ridge-wine-spirits - are there to help you create a delicious signature cocktail or pair a perfect wine to every course.

🦃 I'm Making Thanksgiving Reservations.
Mirbeau Inn & Spa and Rye Tavern are both planning special menus and special seatings for Thanksgiving. And when you are over your turkey leftovers, Mamma Mias is ready. We have all the details:
Mirbeau Inn & Spa - 508-209-2393
Celebrate Thanksgiving in America's Hometown this year, with a special holiday dinner in Mirbeau's casually elegant Bistro & Wine Bar and Henri-Marie. Enjoy a fabulous Thanksgiving menu, featuring savory appetizers, seasonal dishes, and fabulous desserts and drinks.
Mirbeau is offering seatings on Thursday, November 26 at 12:00pm and 5:00pm
View the Mirbeau Thanksgiving Menu
---
Rye Tavern - 508-591-7515
Rye Tavern is the perfect rustic setting to enjoy your Thanksgiving dinner. Fresh, local food and drink from local farmers.
Rye Tavern is offering seating on Thursday, November 26 at 12:00 noon, 2:30pm and 5:00pm.
View Rye Tavern's delicious offerings for Thanksgiving dinner!
---
Mamma Mia's - 774-773-3129
There are only so many ways you can eat leftover Thanksgiving Dinner. After you've had the sandwich with everything on it, is there really anything left? To that we say: pizza is always a good idea and Mamma Mia's is the place to get your pizza fix!