September 4, 2023 11:00am – 2:00pm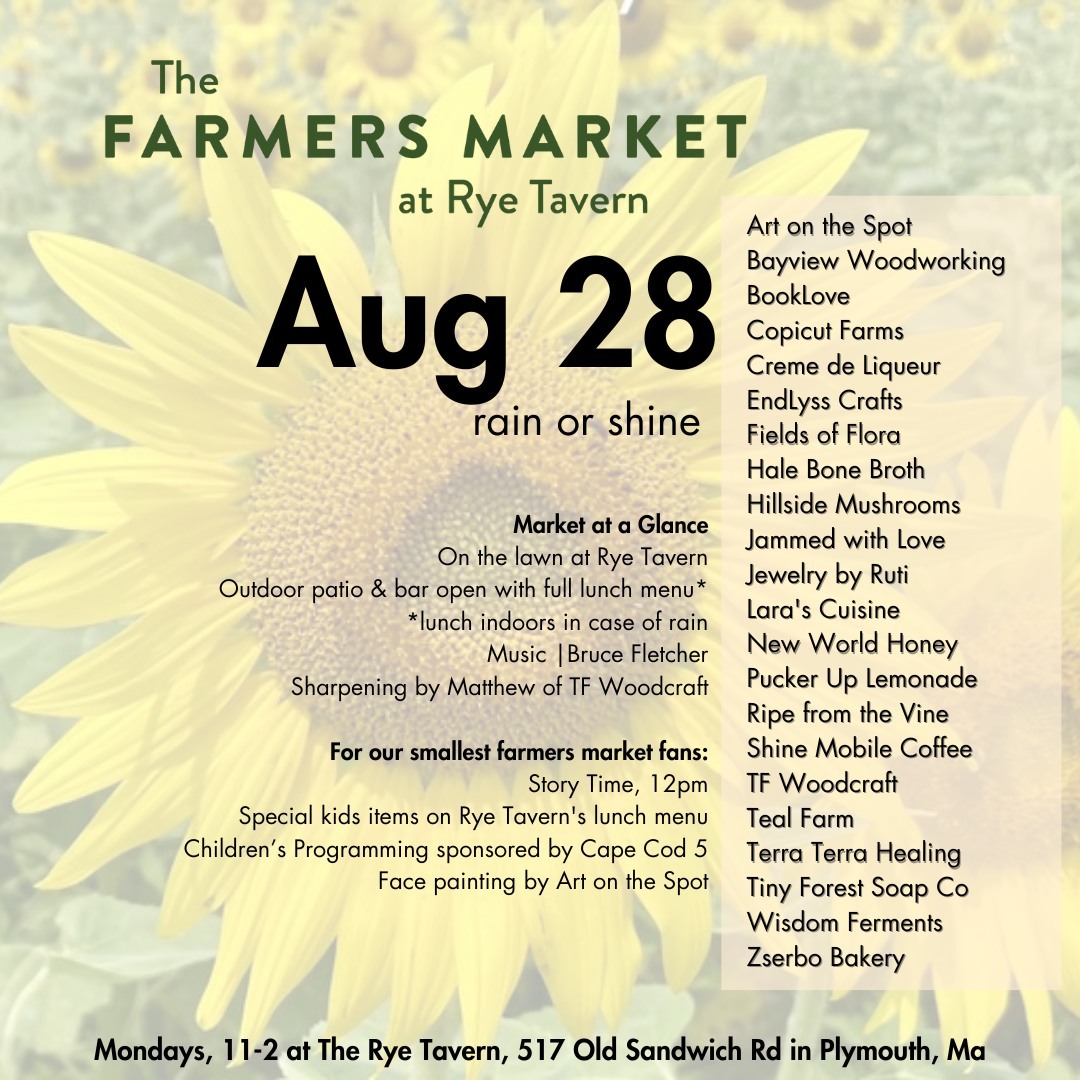 Start your week off right with The Farmers Market at Rye Tavern - Mondays, June 5 through Oct 9 from 11-2.
Now in their third year, the women-owned and managed Farmers Market at Rye Tavern has some exciting additions to this year's market including live music, culinary demonstrations, activities for the whole family, (and well-behaved dogs.)
The market is held at the oh-so-picturesque Rye Tavern, on the grassy lawn that wraps around the bar and patio. And if the news couldn't get any better, Rye Tavern will be open for lunch during market hours. The combination of a beautiful outdoor setting, farm-to-table food, and signature cocktails, make it the perfect spot to relax and recharge after exploring the market.
The Farmers Market and Rye Tavern are located at 517 Old Sandwich Road at The Pinehills in Plymouth. It's easily accessible, just off Route 3 at Exit 7. So, mark Mondays through Columbus Day in your calendar, and make it a routine to kick-off your week in the most delightful way possible.

shop - eat - relax
* live music

* cooking demonstrations
* face painter
* kids activities...
...and lots more!
The Farmers Market at Rye Tavern

517 Old Sandwich Rd
The Pinehills in Plymouth
(Off Route 3 at Exit 7)
Mondays, 11am-2pm


Season's Vendor List (Link to Facebook for Upcoming Week's Vendors)
Ahlbin's Homemade
Art on the Spot
Bayview Woodworking
Bob's Woodworking
Book Love
Burke's Hot Sauce
Coastal Brahim
Copicut Farm
Creme De Liqueur
EndLyss Crafts
Fanny's Homemade Soap
Fields Of Flora
Hale Life Bone Broth
Hidden Acres Homestead
Hippy Pilgrim
Indie Ferm
Jammed with Love
Jewelry by Ruti
La Dogana Olive Oil
Lara's Cuisine
Lucky Duck Farm
Mermaids & Madeleines
Pucker up Lemonade Co
Ripe From The Vine
River Rock Farm
Shine Mobile Coffee
T.F. Woodcraft
Teal Farm / Hillside Mushrooms
The Islander's Creamery
Tiny Forest Soap Co.
Tomcat Daylilies
Wisdom Ferments
Zserbo Bakery

DOG POLICY: Friendly, well-behaved dogs on a short leash are welcome** at the market!
**As a reminder - allowing dogs at the market is a privilege. The Farmers Market at Rye Tavern's policy is described on their Facebook page in the "About" section, as well as stated on each newsletter. They welcome friendly, well-behaved dogs on a short leash. The Market Director and Operations Manager will greet owners and their dogs at each market. If we observe behavior that compromises the safety of the market, our customers or vendors, we will require that owner to remove the dog from the market grounds.