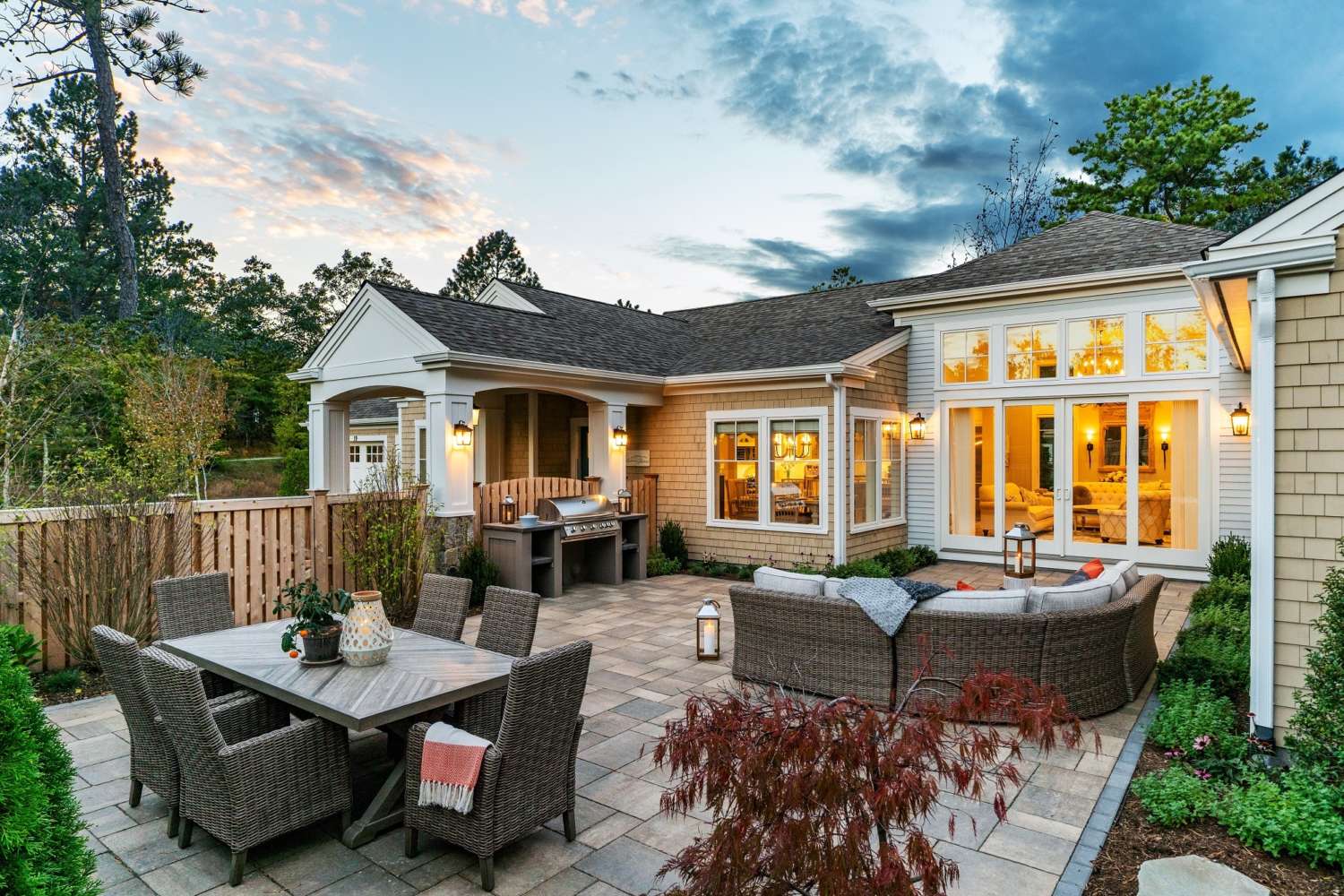 When you walk the trail through the Climber's Path neighborhood in The Pinehills, you'll see an intimate neighborhood of perfectly-sized homes, with just-right details, taking shape along the hillside of Sacrifice Rock Road. Step through the front door of the model home at 19 Climber's Path and you'll begin to understand the vision that MacKenzie Brothers has for the place: beautiful, highly-crafted, one-level homes built around charming private courtyards. The outdoors is just as important as the indoors for both home plans you can build here, with spaces perfect for a fire feature, pool, outdoor shower, raised-bed garden or all the above.
But the MacKenzie Brothers' vision goes beyond the beautiful design you see on the surface, to less obvious features that create environmentally friendly, energy efficient homes you'll truly fall for. From solar panels, rain water collections systems, superior insulation, to fresh air systems. Green looks really good.
Outside
The first step in energy efficiency was orienting the neighborhood to face south/southwest, and each of the eight homes planned for the neighborhood will have the same orientation. This orientation takes full advantage of the sun's rays – filling homes with light, and optimizing the energy harnessing ability of each home's roof-top solar panels.
Prior to sheet rocking, using superior insulation and air sealing the framed structure is critical for low-energy construction.
Climber's Path homes have rainwater collection systems that conserve roof run-off to irrigate plantings and small lawns.
Inside
Size matters. Home designs of 1800 to 1900 SF, all on one floor, reduce energy consumption.
All appliances are energy star and mostly electric, to take advantage of the solar power system. The homes feature gas for cooking, including Wolf dual fuel ranges – with gas up top and electric dual convection ovens.
Fresh air systems create healthier interior living spaces by exhausting stale, inside air to the outdoors, and replacing it with fresh outside air.
Passive solar warms the inside of the homes even in the winter thanks to the beautiful wall of glass in the living room.
EV friendly. For those whose energy efficient mindset extends to their vehicle, the home plans include an option for an EV charging port in the garage.
Benefits
The thoughtfulness that has gone into the planning for Climber's Path means home owners never have to choose between gorgeous design and an environmentally friendly, energy-efficient home with the benefits of tax incentives, lower energy bills, and a quieter, healthier home.
Get More Information About Climber's Path