How Much Summer Fun Can We Fit In?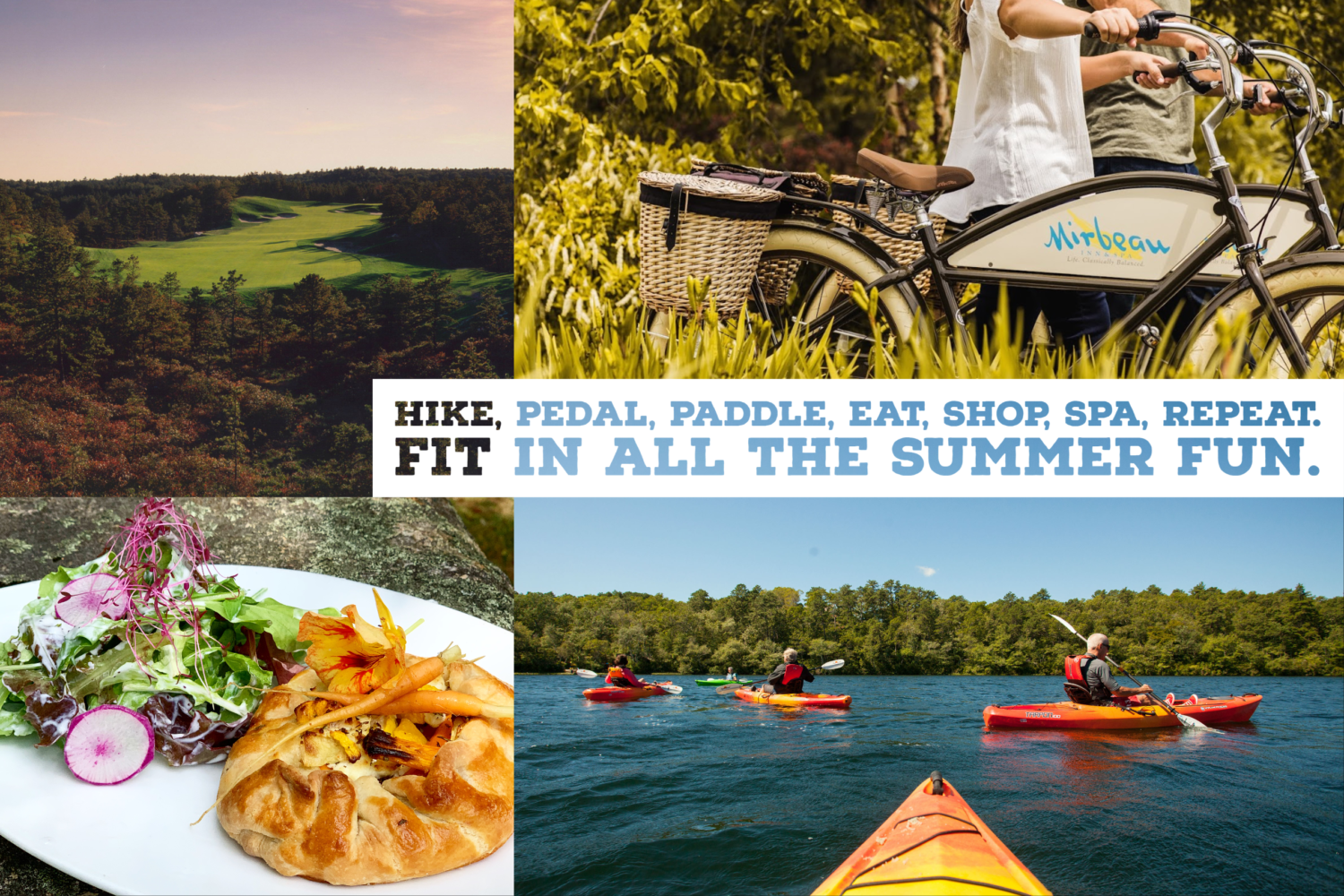 Summer's not over until you decide it is! And there is no better place to enjoy every bit of summer than right here. Coastal New England offers endless activities - even into the fall, if you're willing to occasionally wear a fleece jacket with your shorts. (Been there done that? Raise your hand!) Here are a few ideas to draw out the summer fun as long as possible - right here in The Pinehills and Plymouth.
After all - summer is a state of mind!
---
Great Outdoor Activities.


To quote John Muir, "In every walk with nature, one receives far more than he seeks." With hiking, biking and paddling the Great Outdoors at The Pinehills, we're sure you'll find more than you were looking for. Let's face it, any day you don't have to get in your car is a great day. Just open your door and wander. Or, we can help you plan your path through The Pinehills with our Trail Map. Want even more open space? A few minutes away is the massive Miles Standish State Forest where you can bike, camp, hike, swim, fish, hunt, boat and more.

---
Try Something You've Never Done Be...Fore.


The reviews are in. The championship, daily-fee Rees Jones and Nicklaus courses at Pinehills Golf Club are favorites of golf lovers all over the region and beyond. And around here, we get a surprisingly extended golf season! With excellent golf instruction for adults and juniors alike, and a staff that has won awards for their friendliness, Pinehills Golf Club will help nurture a love for the game and give you plenty of reasons to play outside for months to come. Be sure to enjoy the lively 19th hole at East Bay Grill at Pinehills Golf Club, open with ample outdoor dining.

---
Dine In, Dine Out or Take it Home.


We are heading into the harvest season, so get out the good dishes! The food scene at The Pinehills and in Plymouth is remarkable - the stuff foodie dreams are made of, with plenty of farm-fresh, delicious food options. The gorgeous outdoor dining, with views of gardens galore, at both Rye Tavern and Mirbeau Inn & Spa will keep your summer spirit alive.
---
Hungry for Something a Little More Casual?


Looking for some socially distanced casual dining options? Alfresco breakfast, lunch and dinner will continue at least into September on the Village Green with the Blueberry Muffin and Mamma Mia's. Or, for the ultimate self-contained dining experience - The Market will put together the perfect picnic for two (or three, or four or more.) Call in your order to 508 209 0000, then find that perfect Pinehills picnic spot of your dreams. Breakfast, lunch or dinner, you need never dirty a dish.
---
A Change of Venue.


So maybe you aren't wrapping up summer with a big vacation as in years past, but we know an amazing place to get away and recharge – a French-style manor house right in the heart of The Pinehills Village Green. Voila! Award winning Mirbeau Inn & Spa. An "escape" without the hassle of excess luggage and international travel. You'll be exquisitely pampered in lovely surroundings that are NOT YOUR HOME. (Can you imagine!?) A glass of champagne overlooking their Monet Gardens will have you feeling like you've been transported to Giverny without ever having a single interaction with the TSA. And it must be said these days, the entire staff is going above and beyond to keep Mirbeau clean and safe for spa patrons, diners and hotel guests.
---
Explore Our Town. Plymouth Has It All.


Play tourist in Plymouth! (If that's not an iconic summer activity around here, what is? 😉) You'll be surprised at just how much there is to do and see – even in the summer of 2020. Obviously there's a lot history to take in (Happy 400, Plymouth!) from Plymouth Rock to the newly refurbished and returned Mayflower II, to Plimouth Patuxet and great walking tours of the many historic monuments and locations around town. Enjoying the Atlantic – in it, on it and beside it – is a year-round pursuit here. And did we mention dining? (We did, but we'll say it again.) And shopping? And more. Much more. (We love seeplymouth.com as a resource!) The list of options is long enough that if you commit now, you can play summer tourist in Plymouth well into 2021.
We aren't letting you go that easily, Summer.