Let's catch you up to speed!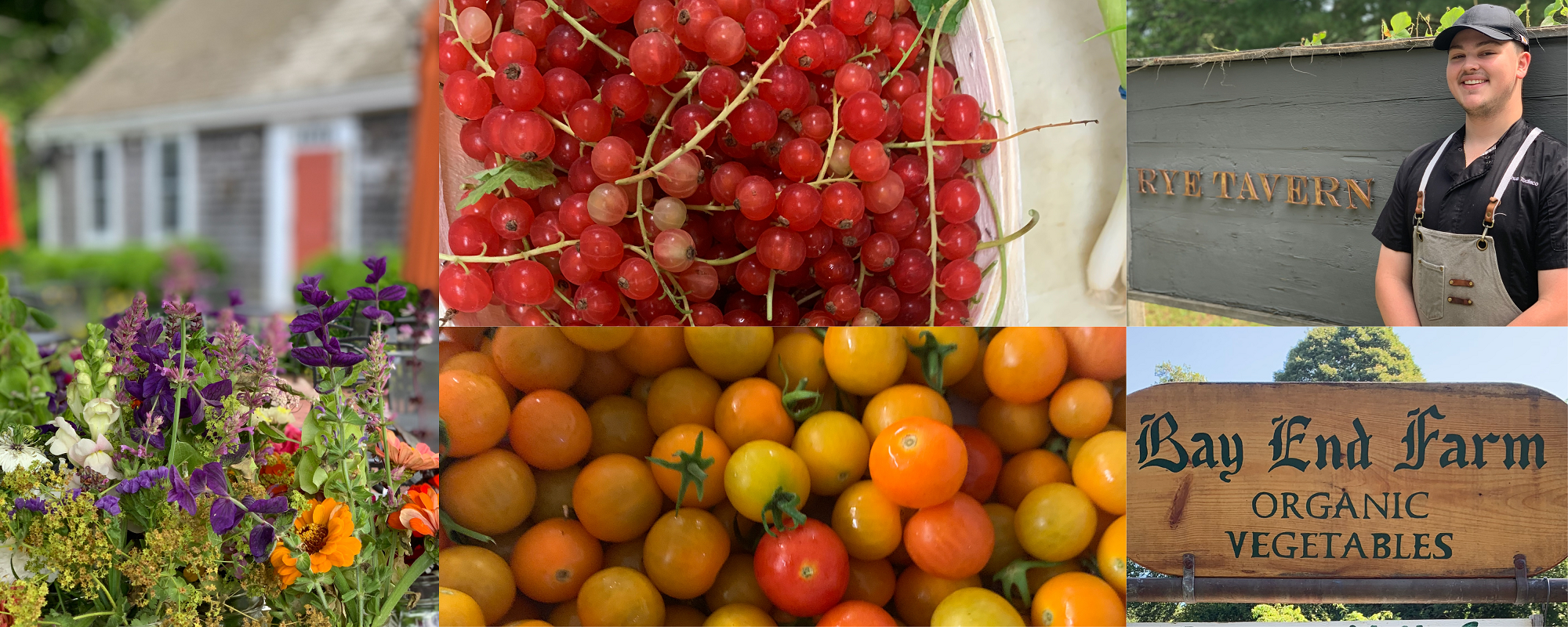 NOTE NEW TIME DUE TO TROPICAL STORM ISAIAS:
August 11th Smoker Takeout and Farm Stand Event | 4-7p* (or while supplies last)

Rye Tavern owner, Ellis Brewster Withington, purchased a smoker from Georgia which is good news and a cause for celebration for all of us. Look for in-house smoked meats in menu items and charcuterie boards!
Meet new Executive Chef, Joshua Todisco, as he cooks us a special menu at the smoker.
Next to Chef, Bay End Organic Farm will set up a farmstand and offer tomatoes, squash, cukes, lettuce, kale, chard, basil, parsley, Asian greens and fresh cut flowers.
Rye Tavern Takeout Event Menu*
BBQ pork belly buns with Raspberry BBQ sauce made with Rye Garden raspberries
CN Smith Farm street corn
Vegetarian tacos featuring Bay End Farm shishito peppers
Currant salsa with house made tortilla chips. (Currants from CN Smith Farm. House made tortilla chips made with Plimoth Grist Mill ground corn.)
Currant lemonade
Rose hip lemonade
Raspberry BBQ sauce and Currant Salsa available for purchase in quart containers
Special surprise "street" desert from Pastry Chef, Katelin Gellar
*Rye Tavern will be offering this menu for TAKE OUT ONLY. The restaurant will be open and offering its regular menu and table service. Take out customers will not be permitted seating at the restaurant. Seating is reserved for regular menu and table service only.
Please note that you may have to wait in line. Staff will be on hand to direct customers in line. Masks and social distancing are required. Please be patient and understanding as the Rye Tavern team manages the situation with customer and staff safety as their top priority.
---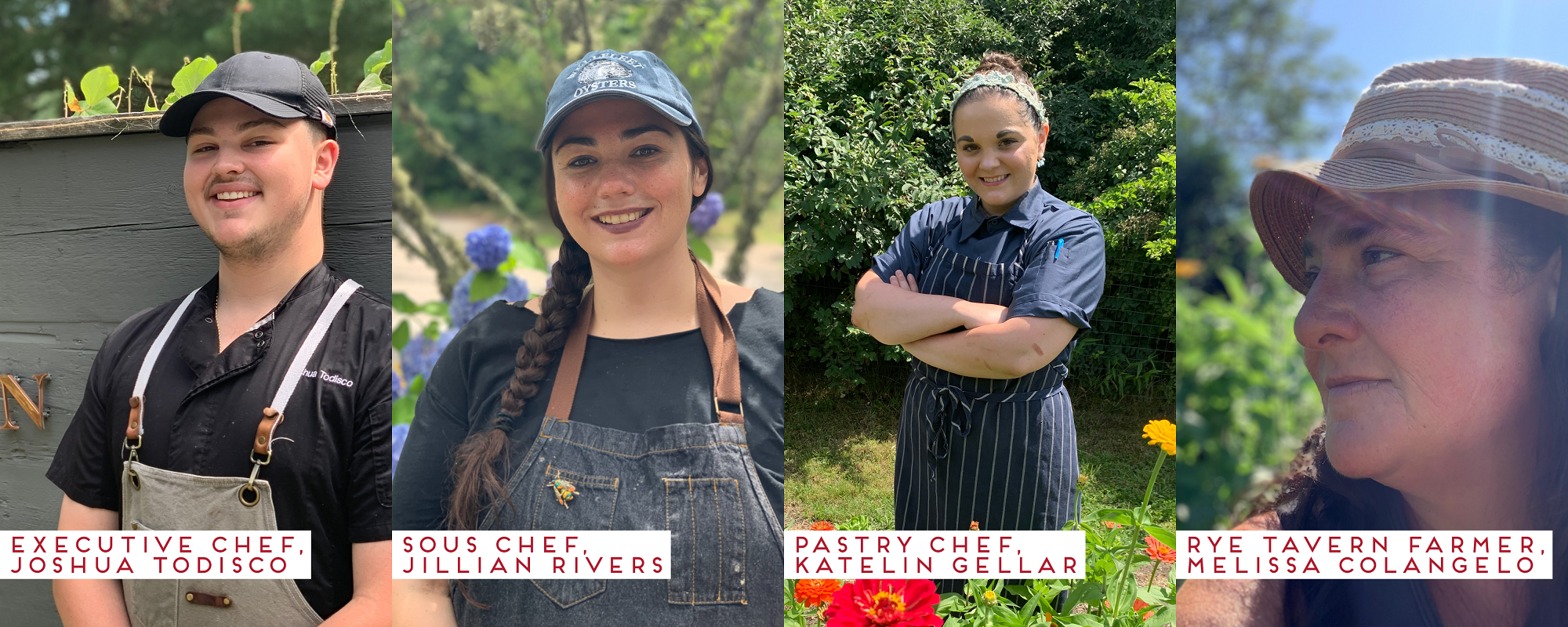 MEET THE NEW TEAM AT RYE TAVERN

While the Tavern was closed (you know - COVID 19) the Rye team was hard at work cleaning, reorganizing, tending to their beautiful garden, and most importantly, welcoming a new back of the house leadership team. Rye Tavern is excited to have in the kitchen the talents of Joshua Todisco (Executive Chef) , Jillian Rivers (Sous Chef ) & Katelin Gellar (Pastry Chef) as well as continued leadership from Tia White (General Manager) and Rye Farmer, Melissa Colangelo.
---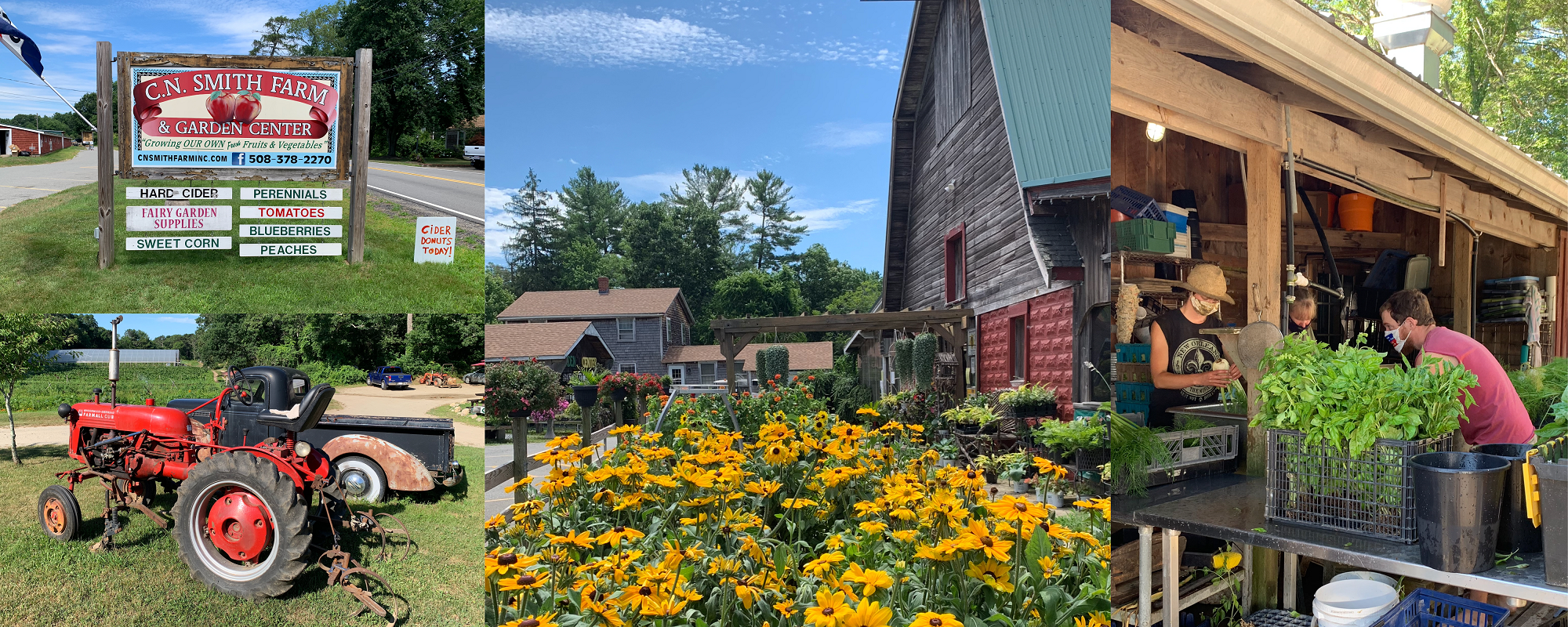 A Renewed COMMITMENT TO LOCAL

We think you'll appreciate this new team's renewed commitment to connecting with local farms and other purveyors from the area. One result of the pandemic, is a spotlight on our food supply. Now more than ever, people are looking for quality food from farmers they can get to know and trust. By supporting local farms and food vendors, Rye Tavern, and in turn anyone who dines there, are supporting local business, the local economy and their community.
On the menu right now you'll find ingredients from these local farms: Skinny Dip Farm, Bay End Farm, C.N Smith, Tilth & Timber, Moonlit Rose, Hillside Mushrooms, Holly Hill Farm, and Garden Of Easton. Rye Tavern is also working with North Coast Seafood, Island Creek Oysters, Duxbury Saltworks, Plimoth Grist Mill, Queen Bee Honey, Brown Boar Farm, Jenny D's Bees, and Hippy Pilgrim Salt. And look for more to come!
---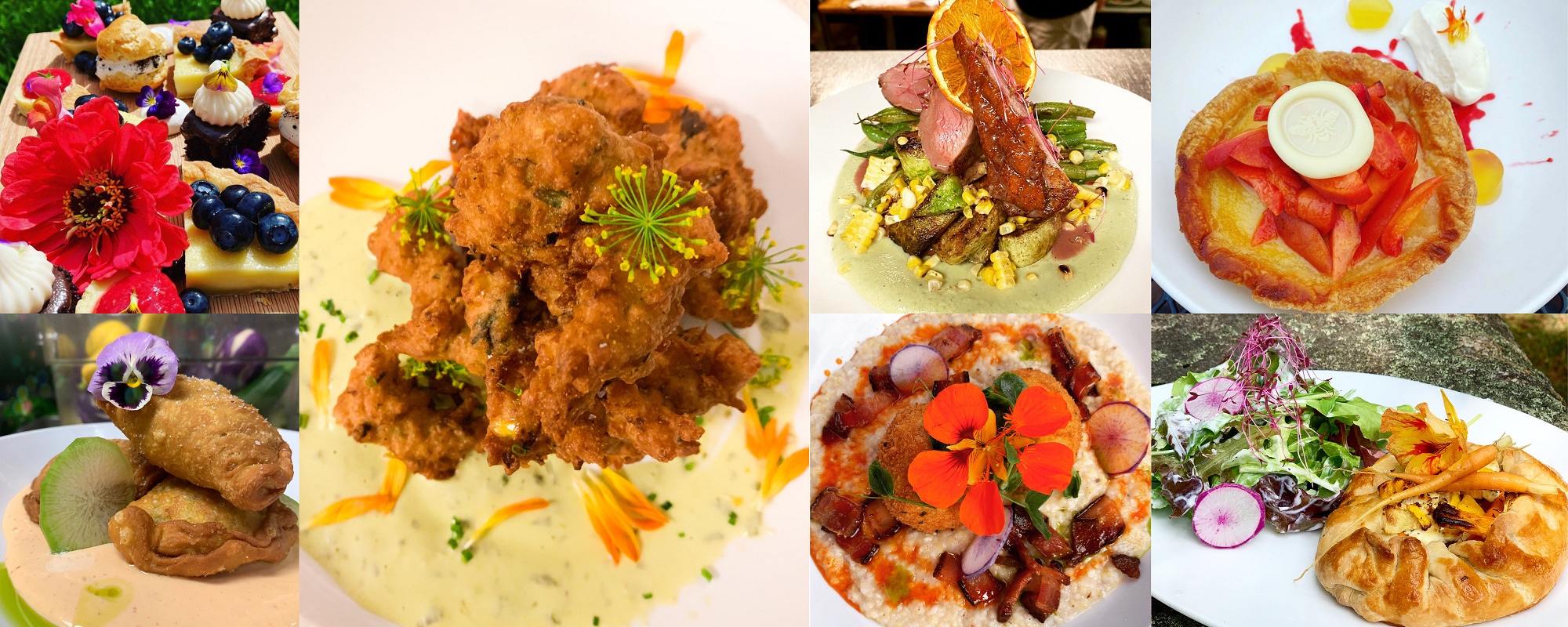 NATURALLY CHANGING MENUS

The commitment to connecting Rye Tavern diners with their local farmers shows in the evolving menus that change bi-weekly, and sometimes by the day, depending on the local farm produce that is available. That means with each visit to Rye Tavern, (go once and you'll want to go again,) you'll have a chance to try something new, fresh, and most-definitely drool-worthy.
With amazing seasonal ingredients, the Rye team has created new mouth watering menu items: Chef Josh's seared salmon with fresh currant salsa, lentils, and bok choy; Plimoth Grist Mill cornbread, pulled pork, and purple sauerkraut from Tilth & Timber. Chef Jillian's summer squash, fennel, green onion & roasted corn Pakora Fritters; Coffee rubbed smoked pork belly empanadas with Skinny Dip Farm Japanese cucumber pickles & yuzu chili aioli. The delectable list goes on and on. Chefs Josh and Jillian shared some recipes with us...you'll find them at the end!
---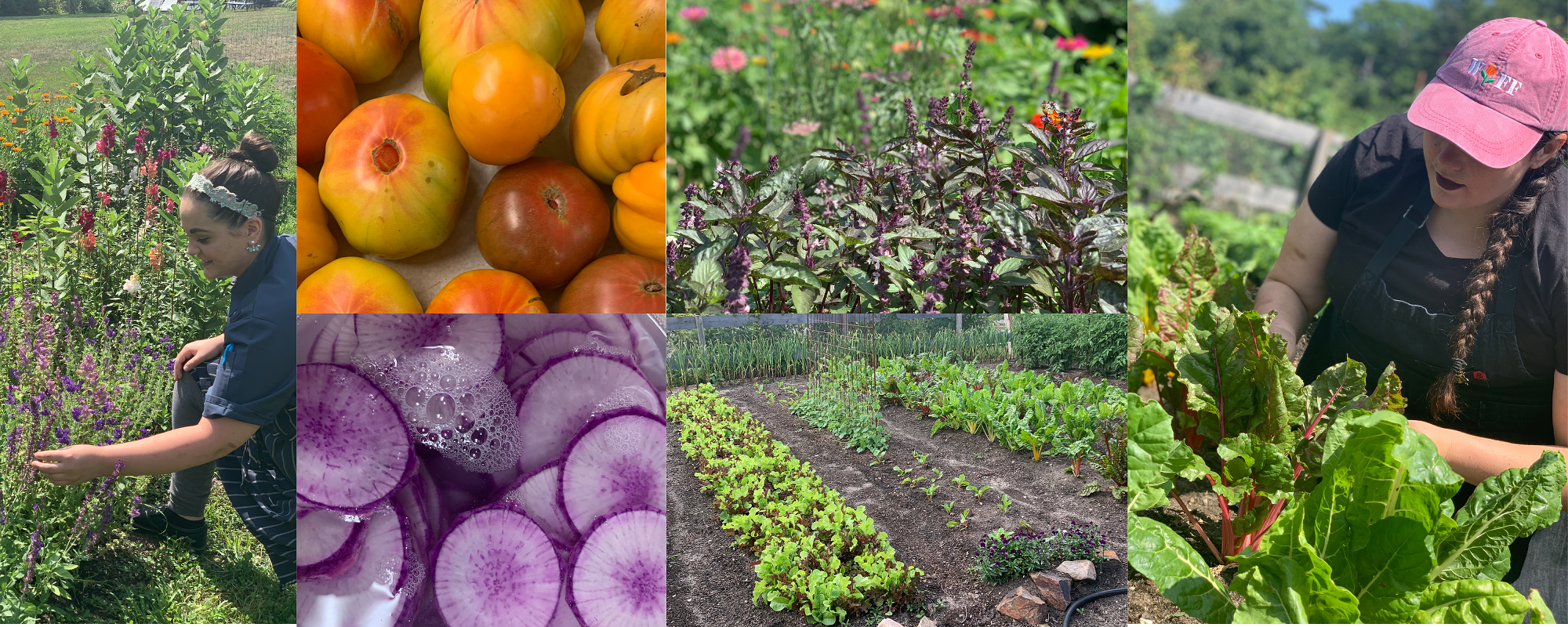 SEE WHERE YOUR FOOD COMES FROM

The beauty of having an edible garden at Rye Tavern, is being able to look outside the window and see the care Melissa puts into her produce that is served to guests. What could be fresher than salad greens, picked same day, on your plate? Just-picked produce is more nutritious, reduces our carbon footprint (no fossil fuel required on that trip from garden to kitchen!) and ensures Rye Tavern guests are getting mindfully tended, high quality, fresh produce.

Rye Tavern farmer Melissa currently has a rotation of garlic, heirloom tomatoes, Swiss chard, salad turnips, nasturtium, mint, lemon thyme, basil, kale, salad greens, and juicy red raspberries in the Rye garden - oh my!
---
Make reservations to dine under the Rye Tavern tent by calling 508.591.7515, or take your chances on first come first serve dining on the patio.
Chef Joshua Todisco's Currant Salsa
1 pack of fresh currants (from C.N. Smith Farm)
1 bunch of mint chopped
1 bunch of sliced scallions
1 red onion minced
1 tsp grated fresh ginger
1 orange segmented & chopped (juice saved in bowl)
2 lime zest and juice
1/2 tsp korean chilli pepper flakes
Sea salt to taste
Remove currants from stems and place in a mixing bowl. Chop mint & slice scallions and add to the mixing bowl along with minced red onion, ginger, orange, and limes. Add sea salt and a touch of pepper flakes depending on your taste for spice. Let sit and marinate for a couple of hours and serve cold.
---
Chef Jillian Rivers' Summer Pakora Fritter
1 zucchini shredded
1 summer squash shredded
2 ears of corn cut off the cob
1 bulb of fennel sliced thinly
1 scallion thinly sliced
2 tbs fresh chopped basil
1 tbs curry powder
1 cup of chickpea flour
1/4 cup tonic water
1 tbs kosher salt
Heavy bottomed pot & fryer oil such as (canola or peanut oil)
Heat a heavy bottomed pot such as a dutch oven with fryer oil half way to 375 degrees. Shred zucchini & summer squash in a food processor or with a vegetable spiralizer and place in a bowl. Add corn, fennel, basil, and scallions. In separate bowl, whisk curry powder, salt, chickpea flour and tonic water until well combined. Pour batter into a vegetable mix and combine together. Scoop fritters loosely into frying oil to create a textured, light, crisp fritter. Fry until light golden brown and season with salt. These fritters are gluten, dairy free, and vegan!