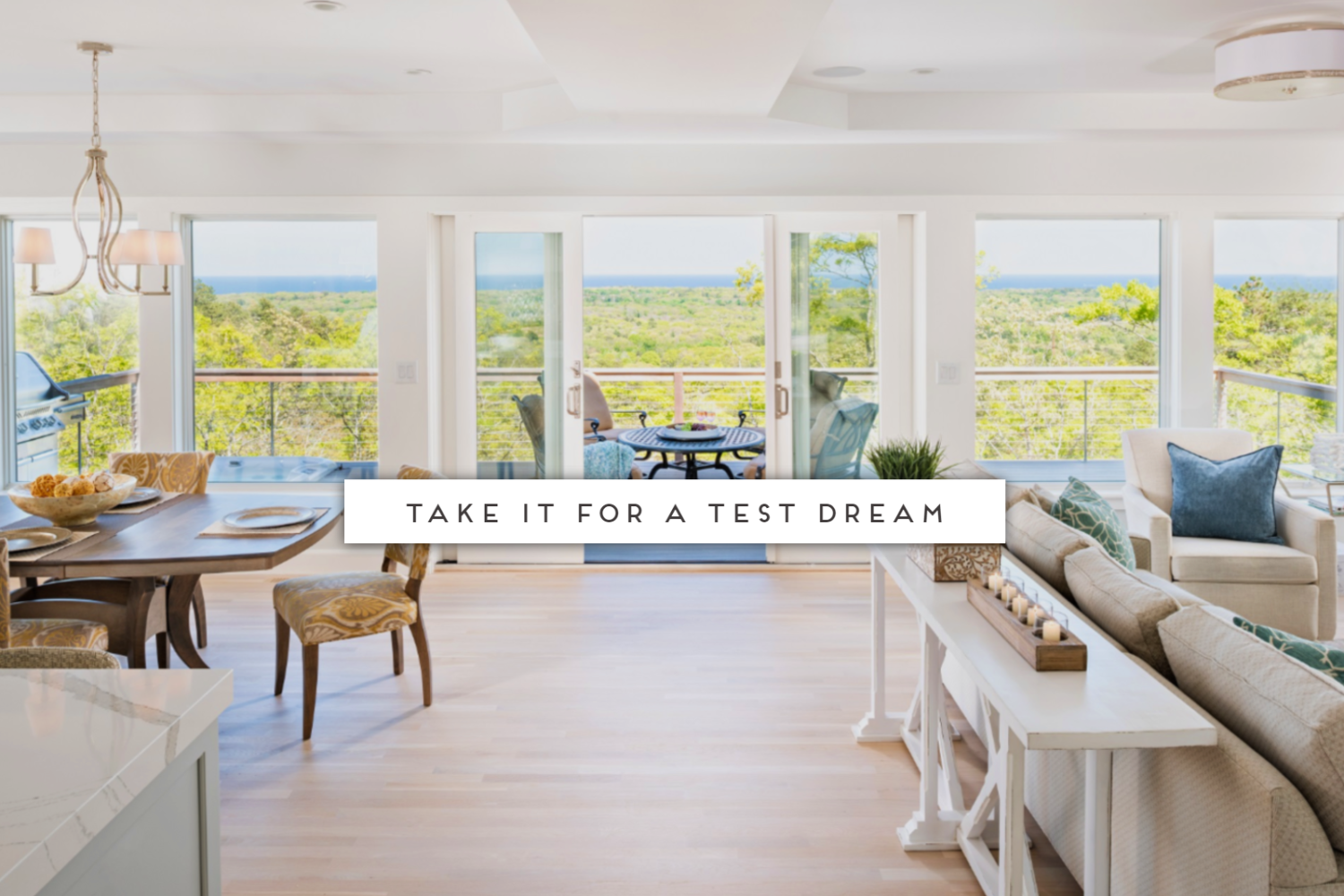 This is a story about you falling in love with a place – a landscape and culture worthy of your vision. And imagining yourself in that place, on the back deck of a new home that's wholeheartedly an expression of you.
And, the process of building that home with our expert team by your side is easier than you might think. In fact, as easy as one, two, three, four...

One. Walk the Land.
The best way to find a location that feels just right is to get out and explore. A lot. Walk the land at different times of the day. Notice where the sun rises and sets. Soak in how the place makes you feel. If you'd like to explore with us, you can. Sign up for a Land Walk Here.

Two. Choose a Neighborhood.
Each custom home neighborhood has its own unique view to soak in. When you sit on your front porch or back deck, what do you want to see? At The Pinehills, you'll find views of pristine pine woodlands, fairways, ponds, or Cape Cod Bay. You see – no two views are the same.
In the exclusive enclave of Talcott Pines, You'll enjoy privacy surrounded by nature – lots of beautiful nature – with easy access to all the conveniences and amenities of The Pinehills.
We also have beautiful Custom homesites available at Dawn's Light, Ryecroft, and Ships Lookout

Three. Select a Builder/Architect Team.
Our award-winning builder partners will work with you to create a beautiful way to live at The Pinehills.
Kistler & Knapp Fine homes grow from a process of discovery, and this custom builder has been proving it for more than 40 years.
MacKenzie Brothers Building some of the region's most beautiful homes from Cape Cod to Greater Boston since 1982.
Whitman Homes Striking architecture is brought to life with true craftsmanship to create a home just for you.

Four. Design your Home.
Now, for the fun part. Bring your vision to life alongside a talented and supportive team of pros. Not sure about your "vision"? Why not take our custom home lifestyle quiz to fire up your imagination and help sort out what matters to you in your ideal home. It starts with the view from your window and goes from there. There are no wrong answers on this quiz - Get Started!

We're Your Team.
Our Custom Home experts are here to help you discover the beautiful home sites tucked into some of The Pinehills most idyllic neighborhoods. (L-R Michelle Turner, Andrea Suba, Stacy Gerry, and Jennifer McNeely.) We'll help you find the perfect setting and view for the home of your dreams. To learn more from The Pinehills Custom Team, simply fill out the form below or call us at 508.209.2000.