it's all about food...outside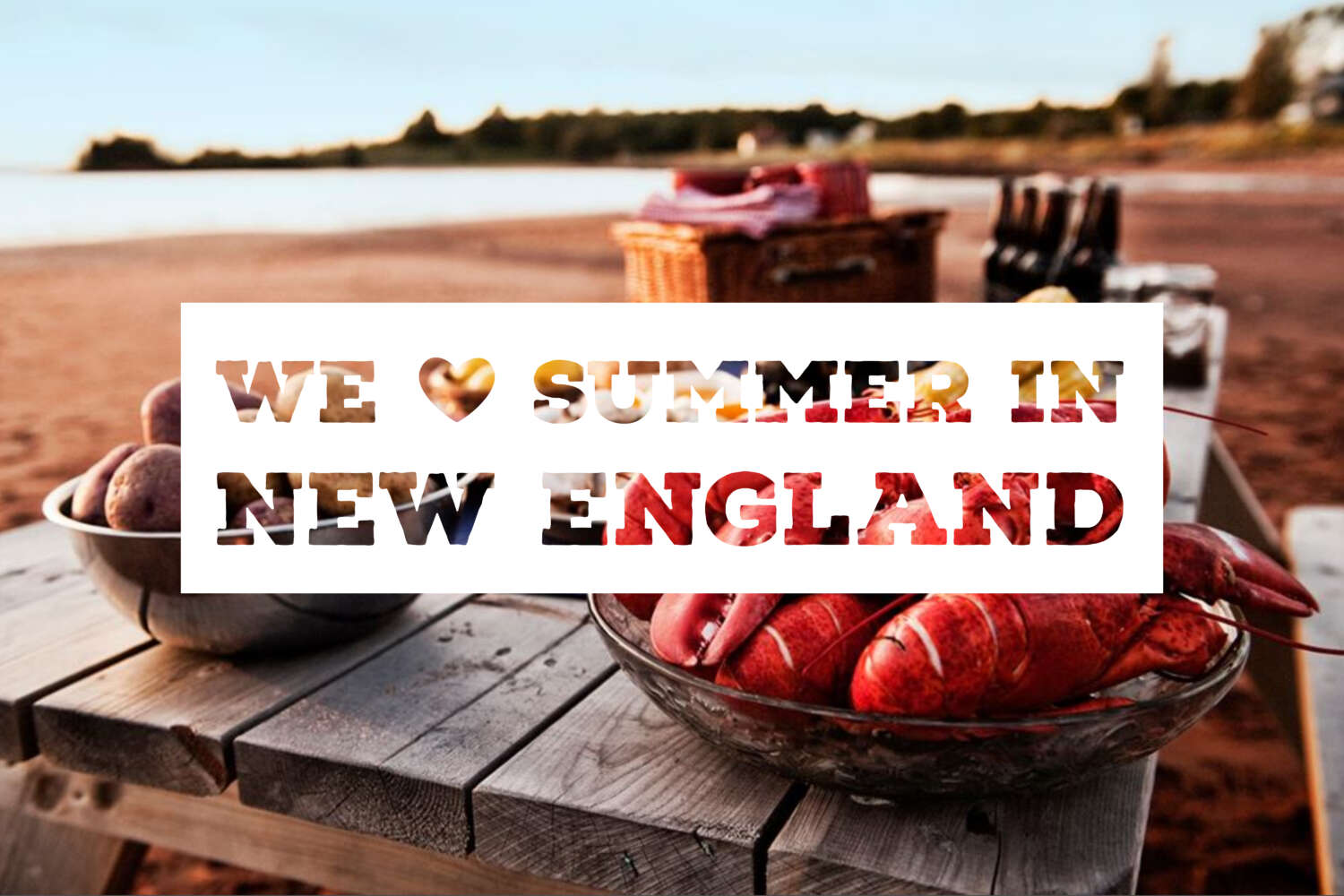 You know that snappy tune from years (and years) ago:
If you're fond of sand dunes and salty air
Quaint little villages here and there
(You're sure) You're sure to fall in love with old Cape Cod
If you've spent any time in New England during the summer – you've fallen in love with everything it has to offer.


Those of us who live in New England think it's a great place to live - and vacation for that matter – any time of year. We love the beauty of the four seasons, the picturesque towns, mountain peaks and miles of seacoast. Fun facts: Maine boasts 3,478 miles of Atlantic coastline. (That's more oceanfront than California.) And, Vermont is the only New England state without a seacoast. (But, stunning shoreline? HELLO Lake Champlain!) With much to love, Summer is still our favorite. We just can't get enough of the long New England Summer days and the incredible bounty of seasonal food that the warm weather and concentrated growing season provide.

Ahhhh the food. We New Englanders welcome all the summertime food and being able to enjoy our meals outside!
Farm to Table. Farmers Markets. Farm Fresh.

Nothing says New England Summer quite like local farm-grown fruits and vegetables. Rye Tavern, re-opening today for your local dining pleasure, sources local seasonal ingredients and employs a farmer who grows produce in gardens onsite and nearby. This super-fresh food is the star of the farm-to-table menu items created by Chef Brent Turner. And best of all, you can enjoy socially distant dining outdoors at Rye Tavern over-looking their gardens and the historic Rye Field across Old Sandwich Road.

We're big fans of the local farmers markets. Our friends at Mayflower Brewing are hosting the Plymouth Farmers Market every Wednesday this summer from 3p - 6p. Talk about a great way to unwind on a Summer afternoon!

Another great place to score some of the freshest ingredients for your summertime meals is from The Market at The Pinehills. With a whole host of local and regional producers featured in every aisle, an in-house cheese monger, plus a premium butcher shop and the freshest seafood counter around. Speaking of which…

Seafood. Seafood. Seafood.

Seriously, you cannot talk about New England without talking about our world-famous seafood, and summer is THE season. Famous fishing grounds off our coast teem with life with the long days around the solstice. From Maine lobster to Rhode Island clam chowder to Wellfleet oysters to fried clams everywhere. If you're looking for the freshest, most delicious seafood make sure that New England is on your summer vacation bucket list. And right now, from lobster rolls and stuffed quahogs at East Bay Grille at Pinehills Golf, to "Plymouth Rock" oysters and Point Judith calamari at Mirbeau, to our favorite clam chowder at Rye Tavern, and scallop bacon pizza at Mamma Mias, chefs around The Pinehills are making the most of local summer seafood.

Blueberries.

This summer treat is native to New England, and Maine is the largest producer. We love them in every form. Fresh picked, in a pie, in a pancake, in a cocktail - you name it. One of our favorite purveyors of blueberry packed treats is right here in The Pinehills - The Blueberry Muffin. True to their name, they aren't messing around: Fresh baked blueberry muffins, blueberry bread, blueberry donuts, blueberry pancakes and BLUEBERRY BREAD FRENCH TOAST! Head on over one of these glorious summer days and enjoy all the blueberries you can handle while dining at The Blueberry Muffin outside (of course) on The Pinehills Village Green!
Dining Al Fresco.
Finally, if you are sensing a theme here, you're right: This time of year we'll use any excuse to eat...outside. Not just at restaurants, but at home, too. Barbecues, ice cream socials, clam bakes, cocktails or s'mores around the firepit - all in our favorite New England summer-rooms: our decks, patios, screened-in-porches, outdoor kitchens, courtyards and backyards. We just want (need) to be out there soaking in every available moment of the long summer days while we have them. If you are looking at a New England summer stay-cation and want to up your outdoor living game, we have some inspiration.