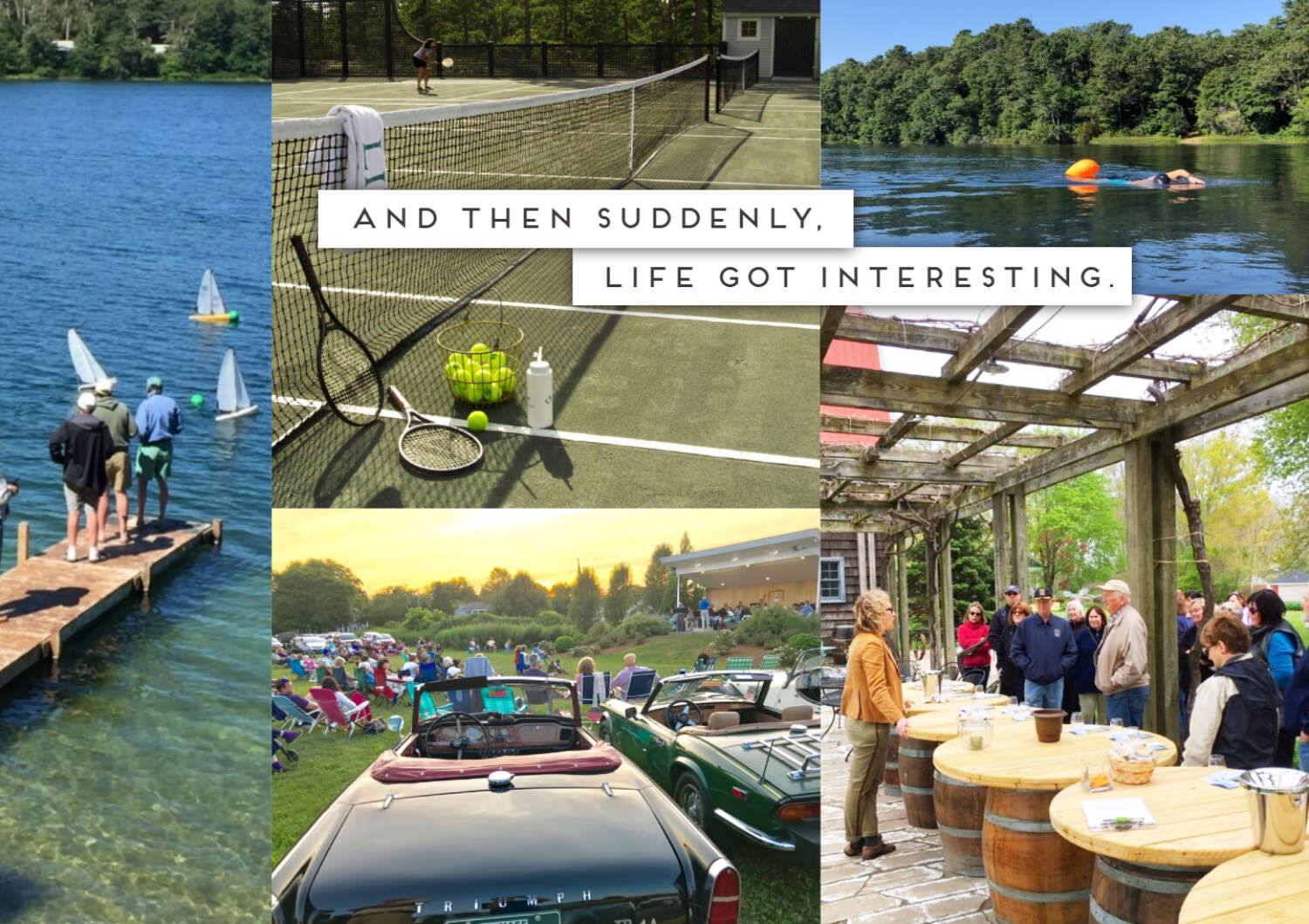 The Pinehills is the kind of place that knocks on your door and asks if you can come out to play. With pools, and tennis courts, miles of walking trails, golf on two world-class, daily-fee, public golf courses, the list of things to do when you live at The Pinehills is endless.
First Stop. The Stonebridge Club
One of the best things about living in The Pinehills is your exclusive membership to the Stonebridge Club, the community's social and amenity center. A place to pursue all your interests, with more than 80 clubs, (did someone say Wine Lovers Club?) a variety of classes, a fitness center, and two refreshing pools - including one especially for the kiddos!
If it's starting to sound like camp for grown-ups, you wouldn't be wrong. This is your place to drop in for a card game, create a collaborative art project, join a musical production, make a short form video with your neighbors, take a history lesson, teach a history lesson, learn to kayak, meet up for a hike, go birding, play ping pong, quilt, read, write, watch movies, jam, philosophize, think positive, start your own club, and make friends …and so much more!
Don't take our word for it, here's what's happening this month . All of this doesn't happen without an amazing team led by Judy Froman and Donna DeFazio, who you've met if you're a resident. The rest of the team includes Mark Berardi, Rob Connor, Barbara Harder, and Jennifer Reekie. As we like to say around here - it takes a village to keep things running, and this is the A-team behind that hum you hear.
And, Honestly....Our Neighbors at The Pinehills Are so Darn Interesting!
We've introduced you to a few of our amazing residents over the years including a Pulitzer Prize Winner, (who was also portrayed by Michael Keaton on the big screen!) a Rock Star, neighbors who became colleagues and dear friends, and so many friends of The Pinehills (they wish they lived here) from a NYT Best Selling author to a descendant (or two) of the Mayflower.
Community Spirit. Beyond The Pinehills.
Living at The Pinehills means being part of a bigger community – Plymouth, Massachusetts – America's Hometown. And in Plymouth, there is no shortage of places to get involved. You can find your match at the yearly Volunteer Fair held at The Stonebridge Club. From volunteering at the Spire Center, Plimoth Patuxet Museums, or being part of Womanade at The Pinehills and supporting families in need through the Plymouth Public Schools, or the Veterans Group at The Pinehills who raise money to help Plymouth area veterans in need. With Stonebridge Club as home base, Pinehills homeowners also organize food drives, pie bakes, hometown clean ups, and drives for hometown pets in need. The positive impact our Pinehills neighbors have on the greater Plymouth community cannot be overstated. ❤️
You get the picture – it's never too late to live happily ever after – at The Pinehills.